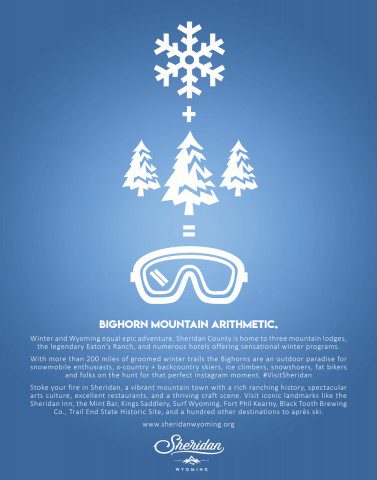 Winter and Wyoming equal epic adventure. Sheridan County is home to three mountain lodges, the legendary Eaton's Ranch, and numerous hotels offering sensational winter programs.
With more than 200 miles of groomed winter trails the Bighorns are an outdoor paradise for snowmobile enthusiasts, x-country + backcountry skiers, ice climbers, snowshoers, fat bikers and folks on the hunt for that perfect instagram moment. #VisitSheridan
Sheridan Travel & Tourism is thrilled to announce the inaugural Sheridan WYO Winter Rodeo, scheduled for February 23rd, 2019! Click here for more information.
Stoke your fire in Sheridan, a vibrant mountain town with a rich ranching history, spectacular arts culture, excellent restaurants, and a thriving craft scene. Visit iconic landmarks like the Sheridan Inn, the Mint Bar, Kings Saddlery, Surf Wyoming, Fort Phil Kearny, Black Tooth Brewing Co., Trail End State Historic Site, and a hundred other destinations to après ski.
Sheridan Travel & Tourism is available to help you plan your next Wyoming experience, whether you're on the solo trip of a lifetime or looking to call Sheridan home.
For additional information on travel planning, lodging, activities, restaurants, historic attractions and more, browse this website or call (307)673-7120.
2018-2019 Resources
Bear Lodge
Lodging
Located at the start of the Medicine Wheel Passage in the Bighorn National Forest, this mountain resort features a full service hotel, restaurant, bar, rustic cabins, wi-fi, indoor pool, and more.
5600 US-14, Dayton, Wy, 82836
(307) 752-2444
Elk View Inn
Lodging
A 12,000 square foot lodge located just off of the Bighorn Scenic Byway, Elk View includes a full service hotel, restaurant, bar, rustic cabins, wi-fi, and conference rooms. Elk View is 7.5 miles from Sibley Lake, 9 miles from Black Mountain, and 25 miles from the Medicine Wheel Historic Site.
4622 US-14 Dayton, WY, 82836
(307) 752-2444
M&M's Center
Ice Skating
The M&M's Center is home to Whitney Rink, an indoor ice-skating rink located a few blocks from Sheridan's historic downtown. Named after Forrest Mars and the Whitney Foundation for their contribution to the construction of the facility which was completed in 2015. Locals and travelers can rent ice skates for free during their open skate hours (see website for open skate hours).
475 E Brundage St, Sheridan, WY 82801
(307) 674-9423
The Paint Post
Painting Classes
You don't have to be a skilled painter to enjoy an evening at The Paint Post. Folks of all ages and skills are welcome. The instructors help guide you step-by-step to create your own artistic masterpiece. Classes are held a few times each week. You can view their calendar here to see what exactly they are painting and how many seats are available.
117 N. Maint St, Sheridan WY 82801
(307) 752-8677
Verdello
Cooking Craft Supplies
Verdello brings global cuisine to your kitchen. Verdello offer a unique selection of oils, vinegars, and specialty food products as well as cooking classes to help you hone your cooking craft.
23 Grinnell Plaza, Sheridan, WY 82801
(307) 675-8777
Whitney Center for the Arts
Performing Arts
This 422 seat concert hall, one of the largest in the region, provides year-round entertainment for those particularly interested in performing arts. From symphony orchestras to art galleries, the Whitney Center has frequent events for visitors and locals alike.
1 Whitney Way, Sheridan, WY 82801
(307) 675-0360
Downtown Sheridan Association
Area Information
The DSA works to promote, ehance, and preserve Sheridan's Historic Downtown District. Event schedules, news, information on local business, and the history of downtown.
121 South Main St, Sheridan, WY 82801
(307) 672-8881
Visitor Center – Sheridan Travel & Tourism
Area Information
Sheridan Travel & Tourism headquarters. Give us a ring, shoot us an email, or stop on in for any questions regarding the area. We're always happy to help you make your experience of Sheridan truly the greatest. The visitor center can accommodate you with brochures, maps, booklets, and even free coffee!
1517 E. 5th St, Sheridan, WY 82801
(307) 672-7120
WYDOT
Area Information
For information regarding road travel and weather hazards, visit the Wyoming Department of Transportation website or give them a call.
10 E Brundage Lane, Sheridan, WY 82801
(307) 674-2300