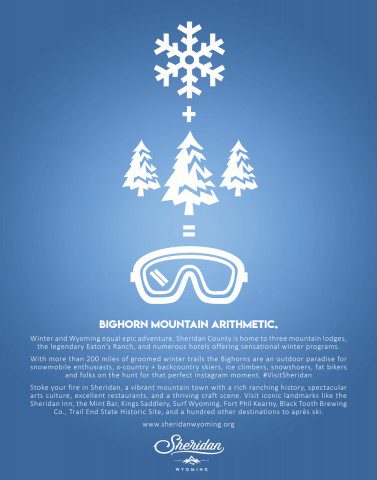 Winter and Wyoming equal epic adventure. Sheridan County is home to three mountain lodges, the legendary Eaton's Ranch, and numerous hotels offering sensational winter programs.
With more than 200 miles of groomed winter trails the Bighorns are an outdoor paradise for snowmobile enthusiasts, x-country + backcountry skiers, ice climbers, snowshoers, fat bikers and folks on the hunt for that perfect instagram moment. #VisitSheridan
Sheridan Travel & Tourism is thrilled to announce the inaugural Sheridan WYO Winter Rodeo, scheduled for February 23rd, 2019! Click here for more information.
Stoke your fire in Sheridan, a vibrant mountain town with a rich ranching history, spectacular arts culture, excellent restaurants, and a thriving craft scene. Visit iconic landmarks like the Sheridan Inn, the Mint Bar, Kings Saddlery, Surf Wyoming, Fort Phil Kearny, Black Tooth Brewing Co., Trail End State Historic Site, and a hundred other destinations to après ski.
Sheridan Travel & Tourism is available to help you plan your next Wyoming experience, whether you're on the solo trip of a lifetime or looking to call Sheridan home.
For additional information on travel planning, lodging, activities, restaurants, historic attractions and more, browse this website or call (307)673-7120.
2018-2019 Resources
Winter 2018-2019 Events
Sheridan Visitor's Guide