History
The Piney Creek Rock started as an informal gathering to celebrate a local climber's life, who passed away fall of 2016. October 21st, 2017 was the inaugural Piney Creek Rock Gathering. The goal was to get 20-30 climbers in the canyon last year and we far excited that number. Last year we had roughly 75 climbers in South Piney Creek Canyon and over 100 people show up to the after party at Luminous Brewhouse.
2018 Piney Creek Rock Gathering
The 2018 Piney Creek Rock Gathering is going to be bigger and better than last year! This year will be a two-day event, September 21 – 22, 2018.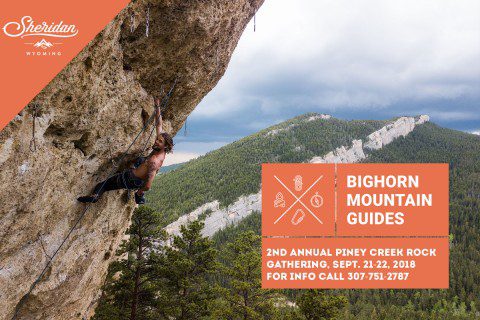 Friday, September 21st
Climbers will gather at Luminous Brewhouse in downtown Sheridan for an evening of good beer, guest speakers, and a live piano performance from the one and only Frank Sanders! All ages are welcome!
Sheridan local, Nick Flores, will start the evening off discussing the local endurance challenge, The Black Tooth Challenge. The Black Tooth Challenge is a 24-hour endurance challenge to summit Black Tooth Mountain. You will leave downtown Sheridan (Black Tooth Brewery), summit Black Tooth Mountain (13,004'), and meet back in downtown Sheridan in less than 24 hours. Here are some important side notes: you cannot use a motorized vehicle, there are no aid stations/cache points, no crewing, and you have to complete the entire trek in less than 24 hours. This challenge was started several years ago as a friendly competition between some buddies, but no one ever truly completed until Nick Flores completed it the summer 2016.
Frank Sanders is a rock climbing legend that resides 160 miles away from Sheridan, WY near the base of Devils Tower. Frank has been climbing since he was 15 years old and he is now 66 years old. He is 19 years sober and he has been guiding at Devils Tower Lodge for 19 years. He has climbed all over the United States, Canada, and Mexico. Frank has climbed Devils Tower well over 2,000 times and has climbed Yosemite's El Capitan 21 times! Please come and listen to Frank Sanders talk about his life as a pioneer of rock climbing, his life struggles, his incredible climbing resume, and listen to Frank play the piano!
Saturday, September 22nd
Saturday will be an all day event. We will start at 8:30 A.M. at the Story Centennial Park in lovely Story, WY. Alex Clearwater will do yoga in the park from 8:30 A.M. to 9:30 A.M. The fee will be $5. After Yoga, we will go to South Piney Canyon to spend the day rock climbing. Bighorn Mountain Guides will be at the trailhead with their entire rental fleet from 10:00 A.M. – 5:00 P.M. You will be able to rent all the rock climbing gear needed for $15 an hour. They will have several top ropes set up, where people can try rock climbing for the first time in a very safe and controlled environment.
At 5:00 P.M. everyone will head to Luminous Brewhouse in downtown Sheridan. We will have 1st Street closed down for the evening so we can host the event outside! We will have several food vendors, raffle prizes, live music, and several fun climbing related games to play. Again, all ages are welcome! At 8:00 P.M. we will start the street dance and go until Midnight!
Camping
Sheridan's local climbing gym, Bighorn Summit, will have limited spots for camping. Please contact them to reserve your spot. (307) 675-1223
Wagon Box RV Park is another great option for camping in Story, WY (15 miles from Sheridan). (307) 683-2261
Sheridan KOA is located out the outskirts of Sheridan, WY. (307) 674-8766
Proceeds
            The proceeds from the Piney Creek Rock Gathering will go to the Bighorn Climbers' Coalition to help keep our climbing locations safe. The Bighorn Climbers' Coalition has started the Bolt-Anchor-Initiative, which goes through the local canyons replacing old climbing hardware/anchors to keep climbing safe! Part of the proceeds will also go to the Wyoming Wilderness Association to help fund the local youth Outdoor Club. Their goal is to get high school age students outside so they can enjoy our lovely mountains!
Contact information
If you have additional questions please contact Nick Flores at nick@bighornmountainguides.com