ESCAPE TO THE MOUNTAINS
Wyoming was purpose-built for social distancing.
There are more deer and antelope than people 'round these parts, and you won't hear many folks complain about that. We've all got our own spaces, but we love to explore the public ones we share, and we don't mind sharing some of them with strangers, from time to time (of course, we keep some of the best ones to ourselves). So, when the going got tough this summer, we decided to get going ourselves – out into our own backyard, the legendary playground called the Bighorn Mountains.
We thought it best to combine some of our favorite things in this episode – good eats, open roads, and epic hiking. Thusly, we began our adventure at The Innominate Coffeehouse & Bakery, a cozy new joint in the small town of Ranchester. The Innominate has quickly established itself as a must-visit location not just for fantastic coffee and fine pastries, but also for campers and RVers looking for a spot to hold up while road tripping the west, or looking at extended playtime in the Bighorns. Located across the street from the Buckhorn Travel Plaza, it's also a last best place to get all the proper necessities squared away before heading up and onto the mountain.
We crushed some quiche and ice tea before setting out onto the open road – and almost immediately stopping again. Between Ranchester and the Town of Dayton, you'll find a small, nondescript Bozeman Trail marker, erected by the State of Wyoming in 1914. The Bozeman Trail was an overland route connecting the gold rush territory of Montana to the Oregon Trail, and was most heavily used between 1863 and 1868. We plan to spend more time on the gold rush history of the region in a further episode; for now, if you'd like to see the marker, look for the more readily identifiable "Tongue River Crossing" sign at the Highway 14 pullout. Cruising onward toward the mountains, we discussed just how lucky we are to call Wyoming home; residents in our state have done an admirable job of flattening the COVID curve, and we've not had to suffer through as many of the lockdown protocols implemented in more populous states. Simply being able to get outside and explore our own backyard is reason to celebrate.
If this is the first time you have visited the Bighorns, the drive along Highway 14 – otherwise known as the Bighorn Scenic Byway – could take you all day. Fewer than 60 miles separate Dayton, in the east, from the small town of Shell, in the west, but in those miles exist some of the most stunning terrain in the nation. Glacier-carved canyons, alpine meadows, towering waterfalls, crystal-clear lakes – there is much to explore in just one small section of the northern Bighorns. Yet we decided today to explore a space a little further afield; our plan was to hike the Cedar Creek Trail, a little-known 3-mile stretch that begins at the end of a bumpy old Forest Service road not far from the iconic Shell Falls.
Shell Falls.
Almost completely glossed over one of the most incredible mountain landmarks in Wyoming. This gushing monster, which the Forest Service has understatedly dubbed the "Thundering Heartbeat of the Bighorn Mountains," blasts more than 3,600 gallons of water per second down the granite chute of Shell Canyon. The falls are 120 feet tall, but the viewing decks lend a sense that you are just feet away from a towering, unrelenting natural force. There's an outstanding interpretive site here, and the path offers up great views of the canyon, as well as Copman's Tomb, a massive promontory named for the early aviation enthusiast Wolfgang R. Copman; stories suggest that Copman tried, unsuccessfully, to launch a flying apparatus from the top of the mountain, and also wished to have his ashes scattered up on top when he died (no luck on this one, either).
We had much time to muse on the reasons why a pioneer would attempt to brave harsh mountain terrain in order to fling himself into the air from the highest peak available while we set out on foot from the Cedar Creek Trailhead (#055 in your guidebook, number 1 in your heart). We decided that the top reasons must have included glory, fame, and whatever passed for social media way back when – wanted posters? Collectible tintype trading cards?
I am not ashamed to admit that it took me a little while to get the alpine air flowing through my veins. Over roughly four miles, we ascended 1,250 feet, reaching a max elevation of 7,389 feet, plenty high enough for the mountain air to feel a wee bit thinner. Or perhaps it was the aura and atmosphere of the untrammeled countryside that stole my breath; we were rewarded with gob-smacking views down through the canyon, all the way, in fact, to Chimney Rock, a massive, rusty sentinel that juts out of the arid terrain of the Bighorn Basin. We caught Copman's reflection in a beautiful little pond, spied on some wildlife through the charred remains of old pine forest, and made up names for the wildflowers that we had no hope of properly identifying. What we did not see on this trail were other people – typical for hiking routes in the northern Bighorns.
At the four mile mark we descended a little way into a clearing on the edge of a canyon, and we found what we assumed to be a cow camp, used by hunters or the local dude ranches as a quiet hideaway from the everyday. In lieu of horses, we left our bags leaned up against the hitching post, and we set camp. In no order, we kicked up our boots, cooked dinner, and told stories both tall and tiny while staring into the burning embers of our campfire. When those embers burned out and the stars began flickering overhead, we did some light painting of our own (camera wizardry 101, as it were), before retreating to the confines of our tents. I eventually drifted off to sleep when I was fully convinced that I would not be crushed by a runaway boulder sometime in the night. If you get a chance to see this rocky hillside, you will understand my concern.
The next morning, we again went looking for wildlife, but spotted only chatty members of the local bird community. Funny, though, how easy it is to shrug off failure in the mountains. So many of life's problems seem so minuscule when you are surrounded by the wild on such a grand scale. Sure, that is one seriously cliched sentiment, but it works for me.
We hiked out in roughly half the time it took us to hike in, not only because it was a downhill scramble most of the way, but because we were distracted by the snowcapped peaks of the wilderness in the distance, and the promise of a hearty, celebratory meal that lay at the end of our journey. You see, I have found that I do my best hiking when I offer myself an arbitrary reward for completing the trail; how much of this reward is earned is debatable, but at least I'm only arguing with myself. We returned to Sheridan and found seating on the patio at the Pony Grill and Bar, where we proceeded to tuck into the new Bomber Mountain Wings (made with Blacktooth Brewing's Bomber Mountain Amber), and Bacon Blue Jack Bistro Burgers. We considered just how easy it had been to socially distance in our own Backyard, and we thought of all the folks out there we would like to encourage to do the same.
THE DETAILS
WHEN TO GO:
Cedar Creek Trail is a great early season hiking option; thanks to its lower elevation, this area is free of snow relatively early in the year. It can get hot in the canyon at the height of summer. During fall, there are many opportunities to spot wildlife here.
HOW TO GET THERE:
Trail begins at FSR 264, east of Shell Falls. 264 is a rough 2-mile stretch, suitable only for high-clearance vehicles or ATVs. Do not attempt in inclement weather.
Click here for data on our hike in; you'll be able to see info on our average speed, topographic data, and more.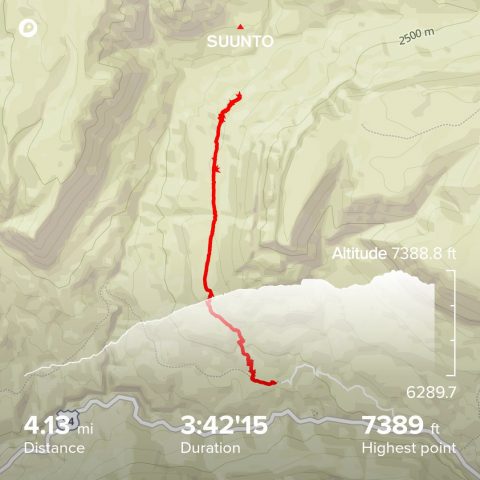 RESOURCES:
We recommend Ken Keffer's Hiking Wyoming's Bighorn Mountains, an outstanding guide to area hikes. We also recommend the National Geographic Trails Illustrated maps. Both are available from local bookshops, outfitters and outdoor shops in Sheridan County.
GEAR UP:
Consider gearing up at one of our local shops or outfitters to keep Sheridan County's outdoor industry thriving. Local outposts include Rocky Mountain Discount Sports, The Sports Stop, Sportsman's Warehouse, Shipton's, Tractor Supply Co., and Big Horn Trading.
WHERE TO STAY:
Not keen on spending a night in the woods? Consider one of the fantastic lodging options available in Sheridan County, and make a long day trip out of your Cedar Creek Trail hike. Our mountain lodges, which include Arrowhead, Bear, and Elk View, will get you closest to the trail; campgrounds in Dayton and Ranchester include Foothills Motel & Campground and Lazy R Campground and Cabins, respectively.
STAY INSPIRED:
For our full album of photos from this road trip, visit our archive here.
For all of our short films, videos, and other film-related content, follow us on YouTube by clicking here.
STAY SAFE AND HEALTHY:
At this time, there are no health and safety restrictions related to COVID-19 along this route. But please note that some retailers in Sheridan have implemented mask requirements (those that do offer masks for guests at the entrance). Observe Forest Service regulations when exploring the Bighorn National Forest. Bars and restaurants currently have limited seating indoors. Click here for up-to-date COVID-19 information and resources.