Sheridan is the Cultural Capital of Wyoming, and features numerous galleries, exhibits, exhibitions, and art collections open to the public. Craft culture and maker spaces abound – there's plenty of opportunity to have a hand's-on experience in shaping your own artistic vision (and vacation). Immerse yourself in art of the Wild West with our One Day as an Artist itinerary:
Morning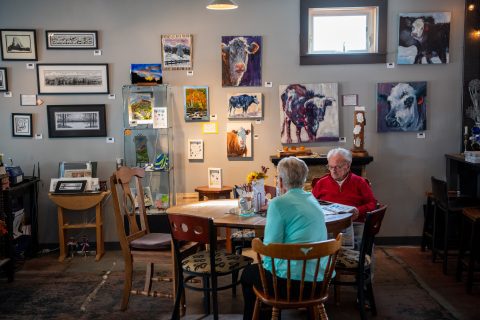 Arrive early at Jackalope Ranch Cafe in the heart of downtown and experience scratch baking at its finest, or get down with some old-fashioned American cooking at the Silver Spur Café. This should give you ample time to check the Community Calendar for art exhibits, classes, or upcoming shows.
Take Sheridan's self-guided Historic Walking Tour and enjoy more than 40 public art pieces and numerous buildings listed on the National Register of Historic Places. Maps are available at the Chamber of Commerce, Travel & Tourism Office, or Downtown Sheridan Association, as well as the DSA website.
Stop by the WYO Theater to pick up tickets for tonight's show (whatever's on the marquee is sure to please – trust us). When the WYO Theater opened in 1923 as the Lotus, newspaper headlines proclaimed it "Wyoming's Wonder Picture Palace!" The theater remains one of Sheridan's hallmark attractions.
Main Street is home to a number of art outposts, including The Bozeman Trail Gallery, Main Frame, the Don King Museum, and SAGE Community Arts.
Be one of the first to experience the new exhibits at the Sheridan County Historical Society & Museum, then take the short drive to the Town of Dayton; this picturesque mountain town features the Hans Kleiber Studio Museum, Sonja Caywood Studio (by appointment only), and Gallery On Main, featuring a fabulous collection of local art (and an excellent cafe). Just down the street is the Dayton Mercantile, known for delicious sandwiches, shakes, and Wyoming curios.
Ranchester, located between Sheridan and Dayton, is home to the T-Rex Natural History Museum. Take photos with the massive skull of a female T-Rex named Sue, and explore dioramas, raptor fossils, geological curiosities, crystals, and more.
Grab a bite to eat at the Wyoming Buckshot Saloon (yes, you want to try the elk and bison brats, and you know you deserve the onion rings).
---
Afternoon
The afternoon is all about getting your hands dirty. Book a class to throw some clay on one of Red Bison Studio's pottery wheels, or exercise your inner Gollings at The Paint Post. Classes range from an hour to three or more, depending on the medium or piece being made. Red Bison's Stephen Mullins has produced pieces for Surf Wyoming, the WYO Winter Rodeo, each of Sheridan's breweries, and many more local businesses.
Interactive art doesn't end there – consider a workshop with Archetype Collective, where you'll learn to craft rings, earrings, or even pet tags. Archetype's new maker space is located at The Union at Montgomery; The Union hosts workshops and classes in a variety of disciplines. SAGE Community Arts, located next door, likewise features lectures, workshops, an annual local photography gala, and much more.
Take your show on the road and visit the Ucross Art Gallery; exhibitions are evocative, insightful and beautiful. Ucross is less than 40 miles from Sheridan; pastoral beauty is the highlight of the drive.
On your way back to Sheridan, stop in Banner to visit Turned Antiques (Saturdays only, 10am-4pm), where you'll find over 10,000-sq. ft. of early American antiques and contemporary home furnishings.
---
Evening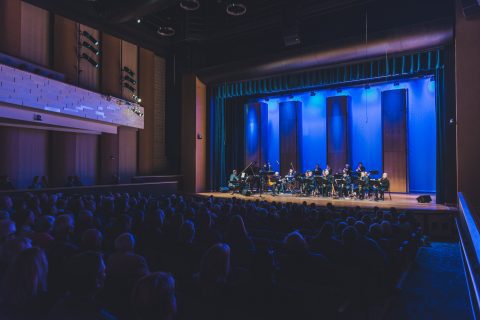 Art can be exhausting, but you're not through yet; steady yourself for an evening on the town at Frackelton's Fine Food & Spirits. Frack's features more beautiful local art, and excellent modern fare – the tuna poke is legendary. Or fill your boots with something substantial at Wyoming's Rib & Chop House. Dressed to impress, head out for a night of pomp and pageantry. The Edward A. Whitney Gallery at the new Whitney Center for the Arts at Sheridan College is small, but exhibits pack a punch – visit the WCA's website for information on performances in Kinnison Hall, the exclamation point on your day of experiential art.
*The following information is current as of November 1, 2019. Business and attraction hours, addresses and contact information are subject to change without notice. 
---