The Bighorn Mountains have been at the center of the essential Sheridan experience for generations. The mountains boast secluded canyons, miles of hiking, biking and riding trails, secret fishing holes, epic climbing lines, and so much more. Experience the best of the iconic Bighorn Mountains with our One Day in the Wild itinerary:
Morning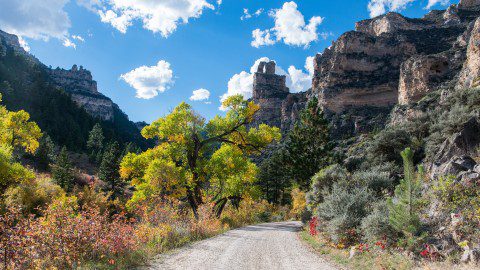 Consider renting a bike, stocking up on backpacking or climbing gear, tying a few flies, or purchasing other outdoor essentials from one of our outstanding outfitters. These include Sheridan Bicycle Co., The Sport Stop, Rocky Mountain Discount Sports, the Fly Shop of the Bighorns, and more.
Jumpstart your day of outdoor adventure with a breakfast at the Shabby Shack (the peaches and cream French toast are a local favorite), or Andi's Coffee, then drive out to Highway 14 toward Dayton; the beautiful Town of Dayton is the gateway to the Tongue River Canyon. The canyon features a long in-and- out multi-purpose adventure trail, swimming and fishing holes, and some of the finest views in all of Wyoming. Here you'll experience a little of what racers endure during the annual Bighorn Trail Run.
Further along scenic Highway 14, up and into the mountains, you'll come to Steamboat Point, one of Sheridan County's most recognizable natural icons. If you're fortunate enough to be in Sheridan late in the spring, the wildflowers at Steamboat are stunning. The strenuous hike to the top of Steamboat is short – less than a mile – but climbs nearly 600 feet, offering sweeping panoramic views of the valley below.
---
AFTERNOON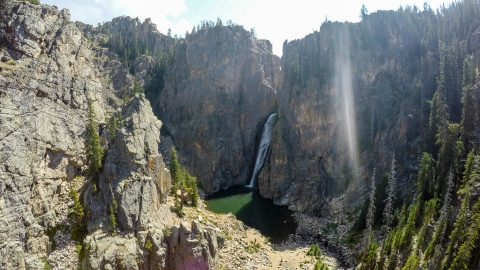 Stop for lunch at one of Sheridan County's fine mountain lodges – you'll pass Arrowhead Lodge first; their burgers are the perfect fuel for an adventurous appetite. Bear Lodge and Elk View Inn feature fine pies for those with a sweet tooth. All three lodges sit in scenic surroundings, and offer ample opportunity for wildlife viewing – keep your eyes peeled for elk, deer, moose, and more.
Continue along Highway 14 to Burgess Junction, and take Highway 14A to the trailhead for Porcupine Falls; one of the Bighorn's most beautiful secrets, the falls pour out of a granite wall and tumble hundreds of feet to a pool below. This is your own private swimming hole for the afternoon.
If you have the legs for it, continue on the dirt road for a few more miles; you'll end at the trailhead for Bucking Mule Falls. The hike to the canyon and the falls overlook weaves through forests, crosses shallow streams, and reveals a side of the Bighorns often unseen.
Finally, end your afternoon of exploration at over 10,000 feet with a visit to the historic Medicine Wheel – this ancient ceremonial Indian site is still used today for cultural and ritualistic events by the Crow and Northern Cheyenne. A sunset visit is a surreal experience.
If your legs are weary, take the back roads out to the hamlet of Story, tucked into the mountains south of Sheridan; here you can visit the Story Fish Hatchery, providing visitors with a unique opportunity to observe fish and local wildlife.
---
EVENING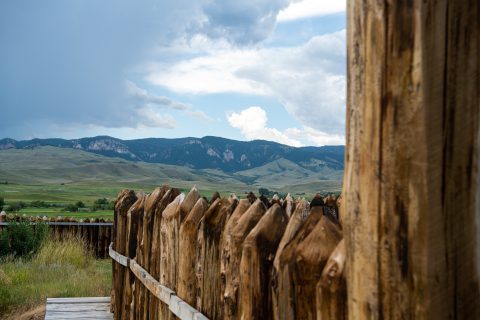 By now you've earned your appetite and your dinner; head back to Sheridan to dine in Wyoming's culinary and craft capital. You could try wild game at the cozy Cowboy Cafe, hand-tossed pies at Powder River Pizza, or fresh Bighorn catch at Wyoming Cattle & Creek.
And since there is no rest for the wild at heart, don your warm and woolies and prepare for an evening out under the stars; the new Skylab at Fort Phil Kearny is an inspiring way to experience Rocky Mountain cosmology, the history of the frontier, and the unforgettable stories of this important Indian Wars Battle Site.
When you finally return to Sheridan, bursting at the seams with a hundred years' worth of frontier history, outdoor grit and local insight, you'll be in a fine position to share Wyoming's tall tales, historic gossip and spectacular stories with your friends and family.
More comfortable with a guide? Looking for a speciality activity, like rock climbing, paddleboarding, or kayaking? Check out our local Guides & Outfitters.
*The following information is current as of November 1, 2019. Business and attraction hours, addresses and contact information are subject to change without notice. 
---