THE GREAT NORTHERN ROAD TRIP
It feels great to be on the road again.
It doesn't matter how many times I take this trip – a route we've unofficially dubbed the Northern Bighorn Loop ­– each expedition brings something fresh and new to bear. There are the icons I'll never tire of: Steamboat Point, rising from the rock like a great ship run aground; Porcupine Falls, with its thundering falls and epic splash pool, a favored mountain escape for generations; and the highway itself, where the Bighorn Scenic Byway becomes the Medicine Wheel Scenic Passage, offering up stunning panoramas of the mountains, opportunities to spot the biggest game in the Bighorns, and countless dirt tracks that splinter off toward some new, unknown adventure. And then there are the lesser-known destinations, the hidden gems and that which is mostly undiscovered. There is the rugged splendor of Bucking Mule Falls; the mystic iconography of the ancient Medicine Wheel; and the remnants of the old gold-fever town, Bald Mountain City. This is to say nothing of the pastoral charm of the foothills, the small towns that lay nestled in the crooks of the mountain, like Dayton, Ranchester, Shell and Dayton, and the wild playgrounds that are closer than most of us think, like the Bighorn Canyon National Recreation Area, and the Pryor Mountain Wild Horse Range.
There is so much to take in an any road trip up and over the Bighorns. You could spend a single day at any of these destinations and feel like you still have not seen all there is to see. You could chase the history of the tie hackers down a dozen different rivers or engage legendary outlaws at half a dozen half forgotten outposts. For our part, we are all about covering miles on this trip – we want to watch as the ponderosa pine and alpine meadows of Sheridan County transform to the rocky, iron-striped desert mesas of Big Horn County. We do what little planning we think is necessary at Bison Union, which is always a good excuse to grab some coffee thick enough to prop up a pocket knife, then head out to saddled up our mechanical bull with all the necessary provisions. It's time to hit the road.
It's a misty, low hanging cloud kind of day, and we're worried for a moment that we won't get to see many of the big landscapes that we plan to see. By the time we crest Cutler Hill and pass Sibley Lake, the clouds have broken, and it is a blue bird day. There is a saying out here that if you don't like the weather, just wait a minute, and if you've ever spent a day in the Bighorns, you know this to be true. We left behind sweltering foothills heat for perfect 70-degree temps, and I'm struck by that invigorating feeling I get every time I come up onto the mountains. Gone are the worries of the day; the hustle and bustle of daily life seems trivial when set against such natural wonder. It's a feeling I hope everyone is able to experience when they visit Wyoming.
We experience some of that famous weather early on. It's June, which means it's still wintry in some parts of the high country. We're stopped in our tracks about 5 miles from Porcupine Creek, which doesn't do anything to dampen our mood – we simply retool and prepare to spend more time discovering destinations we've yet to explore. We share much of that in this week's episode, where you see us try and fail to make it to the waterfall; try and fail to find wild horses at Bighorn Canyon National Recreation Area; and try and fail to find the keys to a WWII aircraft at the Museum of Flight and Aerial Firefighting (admittedly, that last one was a longshot). But it does not really matter that we don't "accomplish" what we set out to do – the goal from the beginning is to enjoy the journey.
And we do just that. We enjoy the great outdoors and the historic attractions that this trip offers up, but we also enjoy chatting with locals in our own town, as well as those around the mountain – business owners appreciate the patronization, and they see good things on the horizon for the travel industry. Wyoming's travel and tourism economy shut down swiftly when the pandemic swept through in March, and because of the sacrifices people have made here, we've been fortunate to open up sooner than most states, and also keep our case numbers down. We hear time and again that we're headed in the right direction, or back to normal – whatever that means in 2020. What is certain is the sense of optimism present in nearly all the folks we meet along the way.
What is also clear is how luck we are to live in this wild, untamed place. Some of the most epic stops on our journey haven't seen more than a few souls all summer – instead of fighting off crowds at the overlook at Bighorn Canyon, we're set against the swirling wind of a sudden storm and the grand scope of the towering canyon walls. When we spy a coyote in the hills near Steamboat Point, then a cow and calf moose at Burgess Junction, we don't have to stop traffic to get a look at the local wildlife, because there is so little traffic in the first place. And rather than waiting in line at dawn for a campsite to open at a national park, we have the run of Devil's Kitchen to ourselves, just in time to cook up a spectacular sunset. We feel safe out here, as distant from the rest of the world as we want to be. There's little doubt that this is part of Wyoming's allure. While so much of the country is on lockdown, we're fortunate to be able to get outside and experience these wild places. But when we do see other folk on our journey, there's a sense that we're sharing in some great, grand secret, and I'm happy that they're sharing this experience with us.
THE DETAILS
WHEN TO GO:
Highway 14A is open seasonally, usually from June through October. It's possible to do much of this trip any time of the year, as Highway 14 remains open and is well-maintained. To visit destinations like Porcupine Falls, Bucking Mule Falls, or the Medicine Wheel, we recommend a late summer or fall trip.
HOW TO GET THERE:
Begin the loop from Sheridan, or any of the satellite communities, like Dayton, Ranchester, Clearmont, Big Horn, etc. We covered roughly 270 miles over nearly 6 hours of drive time on this road trip. Click the map below for a Google Maps version of our itinerary that you can copy to your own phone or navigation device.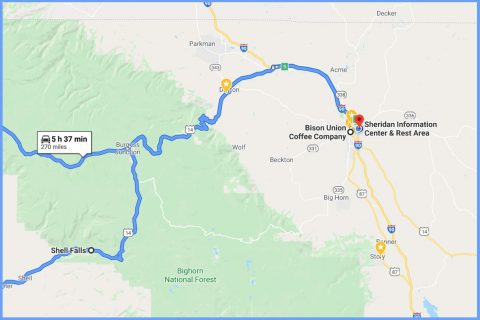 FUEL UP:
We began our trip at Bison Union in the heart of downtown Sheridan. We recommend taking your lunch with you and picnicking at either Porcupine Falls or Bighorn Canyon. Remember to practice proper Leave No Trace Principals when you're exploring the forest.
Top off your tank with gas in Sheridan County before you head on and up the mountain; between Dayton and Lovell there are no places to buy fuel on the mountain.
RESOURCES:
This trip covers a lot of distance, and there is a great deal of history associated with each destination. Stop in at the Sheridan County Travel & Tourism Information Center or the local Forest Service office for information or recommendations on reading material, guides, maps, and more.
STAY INSPIRED:
For our full album of photos from this road trip, visit our archive here.
For all of our short films, videos, and other film-related content, follow us on YouTube by clicking here.
WHERE TO STAY:
Sheridan County has accommodations of every type to suit your Wyoming adventure dreams. Check out our accommodations directory for information on hotels, motels, guest ranches, camp sites, RV parks, and more.
Consider staying at one of our mountain lodges on Highway 14/14A, which include Arrowhead Lodge, Bear Lodge, and Elk View Inn, if you'd like to stay close to the mountain action. Alternatively, we have RV Parks and campgrounds in Dayton (Foothills Motel and RV Park) and Ranchester (Lazy R Campground and Cabins).
STAY SAFE AND HEALTHY:
At this time, there are no health and safety restrictions related to COVID-19 along this route. But please note that some retailers in Sheridan have implemented mask requirements (those that do offer masks for guests at the entrance). Observe Forest Service regulations when exploring the Bighorn National Forest. Bars and restaurants currently have limited seating indoors. Click here for up-to-date COVID-19 information and resources.