"That's the gift that keeps on giving the whole year." – Cousin Eddie
 Whether you're chasing down cowboy tack for the buckaroo in your beau, or you're after the perfect piece of art for your uncle Eddie the culture vulture, Sheridan's shops, boutiques, galleries and outfitters have your holiday needs covered. We are proud to present to you the 2021 edition of our Holiday Gift Guide – and just remember, when you're finished with everyone on your list, it's time to treat yo'self. #shoplocal.
---
Western
"Silver spurs, silver spurs
It's Christmas time in the country"
If you are shopping for the working rancher, the wild west dreamer, or the rhinestone cowboy, you can find the best western gifts right here in Sheridan County. To find a gift for a cowboy and cowgirl, stop into King's Saddlery & King Ropes and pick up a hand-tooled wallet, belt, or a pair of spur straps. While there, you can also find the perfect western accent for any home. Their branded ceramic plates will give any kitchen a western kick and their vast selection of silk scarves, also called "cowboy wild rags," makes the perfect gift for every member of the family.
You can't forget about the little buckaroos. Head down to High Mountain Mercantile where you can get everything your little one needs to be a John Wayne or Annie Oakley, from pint-sized western shirts and cowboy hats to plush mighty steeds and pajama sets. Also, their great selection of western books will have you sharing wild west stories and campfire tall tales at the Christmas table. Sheridan has an incredible selection of western gifts and novelties for the cowboys and cowgirls in your life. Whether it is a unique gift, accent for home, practical cowboy gear, or just a piece of the western lifestyle, head downtown to find it all.
To top off the western Christmas list, we can't forget Tom Balding Bits & Spurs. Offering hand-crafted, custom-made bits and spurs as well as bracelets, buckles, and earrings with exquisite detail, Tom Balding is one of the premier artisans in Wyoming. Also, check out Best Out West Antiques & Collectibles, Bozeman Trail Gallery, Saddle Tramp, Wyld 'n Pretty, and Brian's Boot & Shoe Company to round out your western Christmas shopping list.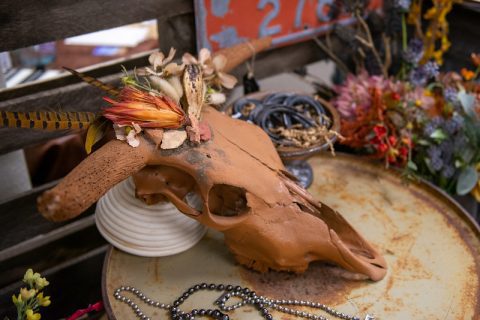 ---
Books
Maybe Christmas doesn't come from a store.
Maybe Christmas, perhaps, means a little bit more (when it comes from a book store). -The Grinch, kinda
Sheridan County is the perfect place to find a gift for all the bibliophiles in your life. A book is perhaps the most cherished gift you can offer a person. It provides entertainment, is a source of knowledge, recipes, or reflections. The newly relocated Sheridan Stationery Books and Gifts offers new releases from best-selling authors like John Grisham and Nora Roberts as well as classics for all ages. Many shelves hold feature Wyoming authors like C.J. Box and Pamela Fagan Hutchins, Author. However, if you are looking for the hard-to-find classics, step into Ye Olde Book Nook on South Main. This shop specializes in eclectic and hard-to-find titles.
In the center of Main Street, you will find the newly relocated Roosters Marketplace. Here you will find books providing inspiration and direction for life, including bibles, devotionals, study guides, and best sellers. Along with books, you will discover jewelry, soaps and lotions, candles and wax melts, purses and scarves, candies, puzzles, and much more. Roosters can be a one-stop shop for the whole family. With children's literature filling the shelves and titles for every generation, there is something for everyone. And at the base of the Bighorns in the cozy hamlet of Dayton, visit Gallery on Main for unique titles from authors from Sheridan County and across Wyoming, and stop in to peek at the collection of classics at the The Historic Dayton Mercantile – and grab yourself a shake while you're at it.
This year treat your loved one, or yourself, to a book and give them the gift of an afternoon escape, bedtime cuddles with kids, or a spark of inspiration.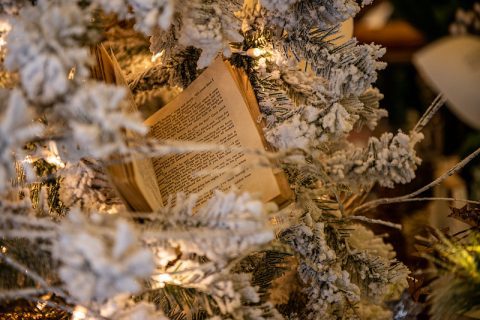 ---
Entertainment
"Clark, Audrey's frozen from the waist down."
"It's all part of the experience, honey!" — The Griswolds
Each and every day in Sheridan County is an experience unlike any other, but some of these good times can be gifted to the ones you love. Here's how!
Get crafty.
The Paint Post
offers classes for both the artistic among us, and for those of us who believe finger painting deserves its own wing at the Louvre. Sign up for a class where you can paint a Howdy Snowman or buy a gift certificate for your giftee to pick out their favorite painting to try. Head to
Red Bison Studio
to sign up for a custom pottery class where, in one night, you will make between 4 and 5 pieces while also learning the skill of a potter on a potter's wheel. Yes, we've heard all your Ghost jokes, and yes, they're still funny. #Swayze
Raise your hand if you've dreamed of being a cowboy for a day. Come on, we know how many times you've seen City Slickers. Now is the perfect time to reach out to Double Rafter Cattle Drives to reserve your place on an epic multi-day Bighorn Mountain backcountry cattle drive. Yeehaw!
Take a culinary journey by signing up for a cooking class at either
Cottonwood Kitchen + Home
or
Verdello
. You and yours will learn techniques to prepare a festive meal, from Italian to Asian and all things in between. Make sure to go hungry because you will get to enjoy the creation together.
Bighorn Mountain Axe
offers gift cards for all the would-be lumberjacks out there, and the best part is that you don't have to be Canadian to participate (it does help, though).
How about a once-in-a-lifetime view of the Bighorn Mountains? We think that you should give the gift of flight – purchase a gift certificate for a Discovery Flight and/or Simulator time from the Sheridan Pilots Association, and take to the skies.
We're here for the winter warriors, too. Plan a night out to a Sheridan Hawks game at the Whitney Rink in the M&M Center. To purchase tickets head to
sheridanhawks.com
.

---
Home
"Be it ever so heinous, there's no place like home." Grinch
Poor Grinch – if only he had a friend who had visited Sheridan County! His humble abode could have become a beacon of festive joy. Fortunately, today is the day that your heart grows three sizes, and with the strength of ten Grinches (plus two) you'll be well on your way to being Sheridan's greatest ever gift giver.
The Cottonwood Kitchen + Home has all the cookware and bakeware you could desire for the homemaker in your life. From quality pots, pans, and cutlery to the latest kitchen gadgets that will make cooking not only easier but more creative.
Sheridan has the ideal spots to find the perfect hand-crafted item that will accent your loved one's home. Real Deals is a great place to shop for one-of-a-kind home décor, fashion and accessories. At the Union at the Montgomery you'll find an eclectic collection of home goods. Yes, you need a complete set of geranium leaf and Mexican spice candles, and the terracotta trees aren't going to buy themselves. There's a fair chance that you've become familiar with Bought Beautifully through one of their pop-ups over the years, but did you know that they now have a brick-and-mortar shop on Main St?  The Bought Beautifully market collects high quality handmade goods inspired and created by talented international artisans. And we could never forget Jackalope Ranch – Pam Gable has moved into new digs that she has transformed into a spectacular showcase for all manner of contemporary furnishings, art, clothing, and much more.
Take the scenic drive out to Ucross and Turned Antiques, where you'll be astonished by the contemporary furnishings and hand-crafted accessories that fill every inch of the sprawling 10,000 square foot store. On your way back to town, stop in at Landon's Greenhouse. Even though winter has finally arrived, you can still plant a smile on a friend's face with a gardening gift. Find the soothing sounds of wind chimes and fountains or whimsical yard art and statuary pottery.
On Saturday, stop into Buffalo Daisy Design's pop-up shop in Big Horn to shop their rustic decor and stained glass collection. Or head to Ranchester's This Joyful Home for cozy accents, clothing, and much more.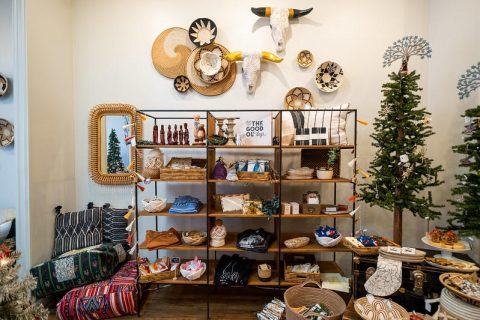 ---
Kids
"…you'll shoot your eye out kid!" – Santa
An official Red Ryder, carbine action, two-hundred shot range model air rifle may be harder to find than it once was, but don't worry – Sheridan shoppers are spoiled for choice when it comes to gifting the little folks in their lives.
If looking for gifts that cultivate curiosity, creativity, and so much more, pop into Kid Curious, located on historic Main Street. Kid Curious features a selection of toys that will inspire your child, such as Marvin's Magic Kit, or open their creative genius with a Boogie drawing board. To ignite a child's imagination further, consider a membership to the 307 Discovery Center, where children can visit the play museum and attend monthly events featuring liquid nitrogen ice cream making, and paint pouring.
Your kiddos will have no problem burning off the holiday cookies when they're gifted a punch pass (or season pass) to Antelope Butte Mountain Recreation Area.  With over 20 runs, a magic carpet, and lessons, AB is the perfect place to spark a lifelong affinity for winter recreation. You can pick up rentals, as well as a sweet treat or two, at Adventure Sports Equipment, which just so happens to be known as the Sugar Boot during the summer months.
For those who prefer to stay a bit warmer in the winter, check out the new Gravity Performing Arts, offering classes for children ages zero to eighteen (as well as adult classes). Light a fire for performing arts by giving the gift of vocal lessons, dance classes, or musical theater.
Every child should have at least a drum kit in the basement or a cowbell to ring quietly in the shed – Morris Music Store and Studio, CB Music, and Q Man Music have just what every burgeoning rockstar needs to launch their career from the garage to the stage.
Puzzle's Game & Hobby hosts events and organized play for many tabletop games including Dungeons & Dragons, Warmachine & Hordes, Miniature Painting & More. But what we love most is what owner Halen McMahan describes as "bespoke nerd," a line of custom decks, miniatures, boxes, and more.
Over The Moon Boutique features contemporary pieces for women of all ages, as well as baby clothing & baby gifts – we've always been partial to the carefully curated plush toys and organic cotton limited run onesies.
In case you haven't heard, sports cards and collectibles are all the rage once again. Looking for a pair of signed Mike Tyson boxing gloves, a 1973 Topps Mike Schmidt rookie card (in near mint condition), or maybe even a Pokemon-Darkness Ablaze booster pack? Try Sheridan WYO Sports Cards, located inside Sheridan Stationery, and Sports Alley, just a few steps away on Main St.
To satisfy a sweet tooth, The Chocolate Tree has plenty to sink your teeth into, from chocolate truffles to Whirly Pops and a thousand things more. No kid can walk past their display of cuddly animals without getting a squeeze in, and a soft plush blanket makes a perfect gift. Visit Tiny Twigs Baby & Kid and The Clothing Co. & Baby Too, where you can find the most stylish children's clothing brands. Tiny Twigs is operated by Emily Robin, whose beautiful photography is lauded in Sheridan and far beyond – Emily has gift certificates available for family photo and/or kid's sessions.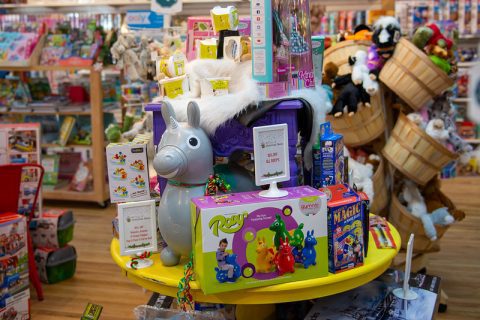 ---
Health & Wellness
"You stink. You smell like beef and cheese!" -Buddy the Elf
Today we're giving the gift of health and wellness because no one wants to smell like beef and cheese.
We know that you are not the type who would overindulge at a Christmas party – your picture is next to the definition for discipline in the dictionary, naturally – but we all have at least one person in our lives who defines the new year with a resolution or twenty. We'll call them serial resolutionists, and boy, have we got them covered this holiday season!
Keen on a fresh start to the new year? The Health Nut has got it all; from daily fresh soups with a salad bar to sandwiches and wraps, a gift certificate will make it a breeze for anyone to start their health goals. Have a friend whose sweet tooth just won't go away? Bomber Mountain Nutrition has you covered with a healthy shake and energy drink bar. Give the gift of a guilt-free chocolate caramel cheesecake shake that is full of protein.
From functional fitness classes to powerlifting and everything in between, Sheridan gyms have what you need to work off the holiday leftovers in no time. The community at Cloud Peak CrossFit is eager to embrace you for some high-intensity training, the trainers at Forge Fitness are waiting to build a plan for your strength goals, and the options are endless for classes at PureEnergy. The Kula Space offers more Yoga classes than you knew existed. Hot yoga, outdoor yoga, gentle yoga, and more, there is a class or session for experts to beginners and everyone in between. And if you're looking for the sort of resolution that will give you something to shoot for, and perhaps push you further than you've ever been pushed before, The Cloud Peak Classic Bodybuilding and Deadlift competition has joined NPC Wyoming and is now a sanctioned NPC National Qualifying show – the second edition of the Cloud Peak Classic returns to Sheridan April 23rd.
Along with wellness comes pampering and self-care from the professionals, not a homemade coupon for a shoulder rub. Let the professionals at Simply Beautiful, Solitude Medi Spa at Crossroads Healthy, or Therapeutic Day Spa pamper your loved one with a therapeutic massage, facial, or hair styling. Balanced Healing Salt & Sauna offers deals on salt and sauna gift certificates, and while you are there, take a break from the hustle and bustle of Christmas shopping and relax in the infrared sauna. And Hair.Skin Lounge features professionals in the hair, skincare, wellness and nutrition industries with over 25 years of experience. Christmas is more than a holiday, it's a feeling-good cheer, good health, well wishes- and a spa gift card or gym membership is wellness and good health wrapped up in an easy way to say good tidings to all.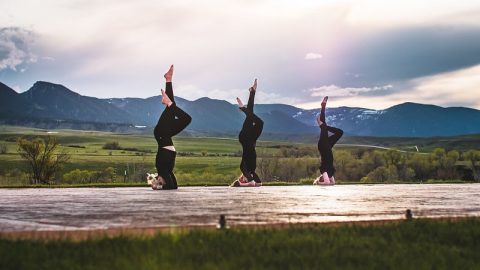 ---
Jewelry
Don't be a cotton headed ninny muggings this holiday season – let Sheridan County's jewelers crown you the king or queen of Christmas.
Riddle's Jewelry has stackable birthstone rings that make the ideal accessory that your special someone will treasure forever. For a custom gift, head into Legacy Diamond & Gems, where you can get a custom elk ivory set with a diamond or a custom hand engraved piece to go with a radiant gem. Jewelry is personal and is a way to express oneself. At On the Rocks Jewelry, you are sure to find a piece that says what's on your heart.
Are you looking for handcrafted jewelry? Look no further than Bought Beautifully, where they have a large selection of handmade jewelry of various styles and collections from international artists. When you buy from Bought Beautifully, you are giving a gift with an impact; stop in to learn how it transforms the lives of the artists. If you want some original local flare in your jewelry, Archetype Collective has one-of-a-kind pieces that carry unique characteristics and markings with a story to tell in each creation.
We mentioned Tom Balding in our western section, but we would be remiss if we didn't remind you now that you can purchase wonderful gifts like classic sterling silver flower burst concho earrings from this iconic master craftsman. The wonderful crew at Red Shed Redos Picket Fence curates a wonderful collection of arts and crafts, often feature jewelers, like Rebecca Mikulin's Wyoming Beads 'N' Such. Jackalope Ranch goes to great lengths to source handmade pieces from local and regional designers; 45th Parallel, the Pearl Gifts, The Old General Store, and Best Out West Antiques are fantastic places to find one-of-a-kind treasures that you might not find anyplace else.
---
Outdoors & Sporting Goods
"Oh, the silent majesty of a winter's morn; the clean, cool chill of the holiday air, and…" – Clark Griswold
Poor Clark. If only he had the Bighorn Mountains in his backyard, and not Cousin Eddie, in his bathrobe, emptying a chemical toilet into his sewer.
Winter in the mountains is beautiful and exhilarating, so let one of our many professional guides help you create an experience that your friends and family will remember forever. Sled Wyo and Off the Grid Outdoors provide snowmobiling experiences that feature adrenaline-filled rips into the backcountry, and scenic cruises through the picturesque, snow-covered. For your fair-weathered friends, get them excited about spring by booking an outdoor excursion with Bighorn Mountain Guides with rock climbing, hiking, and mountaineering adventures. They will be counting down the days until spring.
We've mentioned them already in our guide, and it bears repeating – Antelope Butte Mountain Recreation Area offers affordable and accessible year-round mountain recreation, training, and educational opportunities, with a focus on youth and beginners. Gift certificates, punch passes, and season passes make for perfect gifts.
For all your outdoor necessities, Sheridan has you covered. The Sport Stop will gear you up with name-brand snow gear and essentials like portable camp stoves, thermal cups, and toques that will keep you warm and cozy. To spark an interest or support a lifetime fishing hobby, Fly Shop of the Bighorns has equipment and tackle, fly-tying and casting classes, and even guided fly-fishing adventures. If you don't have enough poles for the entire family, Joey's Fly Fishing Foundation offers custom rod building for kids. If you have someone in your life who has always dreamed of fishing the 189,000 acre Cloud Peak Wilderness, make sure to stop by Quill Gordon's and grab some hand tied caddisflies. What if that special someone is after a record-breaker in one of our reservoirs? Stop by Jake's Lures to pick up a handmade wobbler lure, designed specifically for game fish.
For the sportsman and woman in your life, how about the gift that keeps them sighted in all year. A Sheridan County Sportsmen's Association membership will give them access to gun and archery ranges, indoor range, trap, and skeet ranges. Keep their ammo fully stocked with a trip to Rocky Mountain Discount Sports or Sportsman's Warehouse, or really earn some brownie points by wrapping up a brand new shotgun or rifle for next year's hunting season from Big Horn Trading.
Three of the state's finest golf courses are nestled at the base of the Bighorns, lending Sheridan the title of "Wyoming's Golf Capital." Pop in to visit the beautiful pro shop at the Powder Horn, or, better yet, inquire after a Stay & Play Promotion and experience the 27-hole Dick Bailey designed golf course this summer. Gift certificates to the Kendrick Golf Course and Hidden Bridge make great gifts; both courses offer incredible Bighorn Mountain views, while Kendrick, established in 1935, is rated in the top 5 courses in Wyoming by Golf Digest magazine – 4th "Best Public Course" and the 5th "Best in State." Located in a valley beneath the mountains, just 3 miles west of town, the 18 holes, 6,800 yards and par 72 course offers premiere golf and practice facilities for every level of play.
Most sportsmen know by now that Weatherby Inc. calls Sheridan home – and that you can customize many of their signature products when ordering online. But did you know that the new production facility also features a beautiful new showroom, with apparel, special in-store hunting firearms, prints, and much more for sale?
Kevin Willey's KAW Rawhide & Steel knives are heirloom-quality pieces that make remarkable gifts; they're produced in small batches in Kevin's purpose-built facility here in Sheridan.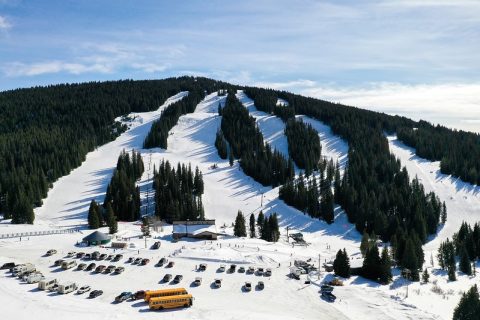 ---
Art
"If I woke up tomorrow with my head sewn to the carpet, I wouldn't be more surprised than I am now." -Clark Griswold
Look, we get it – the inherent value of a surprise is a relative thing. For some, fancy socks are a surprise worth gifting. For others, nothing less than a new puppy will suffice on Christmas morning. If you really want to go the extra mile, we suggest surprising the discerning taste-maker in your life with a piece of art that will stand the test of time.
Main Frame on Grinnell Plaza has original artwork and provides some of the finest custom framing in the region. Boom, one stop shop! Likewise, Expressions Art Gallery & Framing, with a gallery known locally as the "happy place," is beloved by locals and visitors alike.
SAGE Community Arts' members create wonderful paintings, photography, pottery, and more – and chances are good that you might even run into one of the artists while exploring the gallery. Take a scenic drive to the Brinton Museum, where you will find the Brinton Museum Store & Fine Art Sales. You will discover a fine art collection by local artisans, American Indian-made jewelry, books, stationery, home goods, and children's gifts that the American West inspires.
Fun fact; Sheridan now has over 100 permanent pieces of public art positioned across the community, and continues to display pieces that are on loan. All on loan pieces are available for purchase, and the City of Sheridan, along with partners at SAGE and the Downtown Sheridan Association, are working on an app to provide more info on each piece (as well as the artists).
The Ucross Foundation Art Gallery, located in the historic Big Red Barn in Ucross, presents four exhibitions each year, typically featuring contemporary artists of the region, including Ucross Fellows, as well as historical pieces that reflect and explore our location's rich heritage.
David McDougall's Painted Skull Studio in Dayton features vibrant acrylic fly-fishing scenes and riverscapes inspired by David's work as a guide around the Bighorn Mountains. David is one of the many incredible artists who call Sheridan County home; other names that you may know – with art available across the community – include Sonja Caywood, Arin Waddell, Joel Ostlind, Adam Jahiel, T. Allen Lawson, Randy Stout, Elizabeth Thurow, and so many others. The list of incredibly talented artists 'round these parts is long, so please let us know about your favorites in the comments below!
Speaking of western art, the Bozeman Trail Gallery on historic Main Street offers some of the best American West artwork in the region. With their collection specializing in 19th and 20th-century western art, where else will you find a Charlie Russel painting. Also on display is American Indian beadwork, Navajo rugs and blankets, and cowboy collectibles.
The eclectic artwork at the Gallery on Main in Dayton is worth the short drive north of town. Here you will find paintings, pottery, bronze sculptures, hand-forged jewelry, and more. While there, enjoy a bite to eat, and don't leave without trying one of their decadent desserts, the peanut butter cup pie, ala mode, of course, is my favorite.
To inspire the budding artist in your life, sign them up for one of the many art classes. SAGE Community Arts offers a variety of classes such as pour paint class, an excellent class for all levels of artists. Or enjoy a night out together at The Paint Post, where their engaging instructors will guide you through a step-by-step painting masterpiece. If sitting back and enjoying the performing arts is more what you are looking for, give the gift of a night out at the WYO Theater. With world-class music, theater, and dance shows, you will be giving an unforgettable experience.

---
Fashion/Clothing
"But what would I wear? Stupid. Ugly. Out-of-date! That's it. I'm not going." – The Grinch
If only the Grinch had shopped in Sheridan County. Our local shops are bursting with style and Wyoming pride. And we have assembled the best places to go to give your friends near and far the outfit that will have them longing for Wyoming (if, in fact Wyoming is even real…)
What says "Sheridan, Wyoming" more than a Get Wyo'd shirt from Bighorn Design Studio or a WYO Rodeo cap from Kilpatrick Creations? Both these local shops carry local designs from some of our favorites like Go Fast Don't Die, Wyoming as Folk, and of course, gear for supporters of the Sheridan Broncs, Tongue River Eagles, and the Big Horn Rams.
Surf Wyoming has shirts for men, women, kids, and even the littles ones in the family with some adorable onesies. While there, start thinking about filling those stockings with Surf Wyoming stickers, hats, candles, and even a bag of Timber Jack Joe Coffee. Just down the street is another local brand that is all about the love of Wyoming at WyHOMEing Apparel. For the women in your life, get a graphic tee, joggers, and don't forget the accessories to make sure her stocking is full.
Even though Christmas parties are winding down, there are many other festivities in the new year to get dolled up for, and the elegant western designs at Western Grace will have you turning heads. For contemporary pieces that will make your everyday wardrobe pop, head to Over the Moon Boutique. At Jackalope Ranch's specialty boutique, you can find clothing and accessories from favorites such as Sorel, TOMS, Johnny Was, and more. And don't forget to stop into Crazy Woman Trading Co. for a shirt, hoodie, cap, or even nightgown branded with the Crazy Woman trademark.
Now, we all know that it's a scientific fact that Santa Claus is very much real. Wyoming, on the other hand, is not. It has always been too good to be true, and the crew at Wyoming Isn't Real has finally come burst the bubble. Stop into Sheridan Stationery and pick up a hat, sweater, or shirt to let the world know that you're in on the secret.
To celebrate that family special someone who is determined to make 2022 their year, head to Leave No Doubt and pick up a hat, shirt, or hoodie that celebrates everyone who gets after it every day. #NoRegerts.
And don't forget about Maurices, The Clothing Co. & Baby Too, The Sports Stop, The Union At The Montgomery, Bought Beautifully, Bison Union (if you can find a pair of their classic cowboy boots, buy them!), Urban Thrift, 45th Parallel, This Joyful Home, and so many more!
Now, we know that there are plenty of other fantastic businesses spread across our community that stock clothing and apparel; we'd love to include each one, but what we've tried to do is focus on those who primarily deal in the fashion trade (and we have included a few others in previous write-ups). Sure, we know that King's hats are iconic, and that the Mint has some fantastic merch, but that's not necessarily what those businesses are known for. That said, if we've left off one of your favorites, let us know, and we'll update our guide!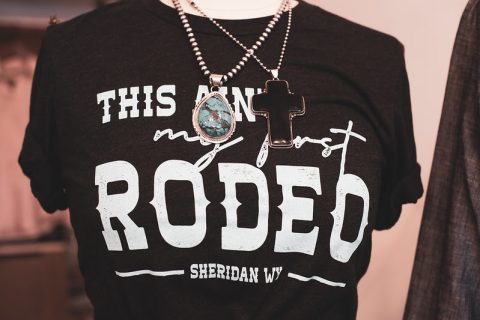 ---
Stocking Stuffers
"Down the chimney? You want me to take the toys down the chimney into a strange house, IN MY UNDERWEAR?" — Scott Calvin
Give Santa a break heading into the home stretch here; he's got billions of chimneys through which to shimmy; the least we can do is help you stuff those stockings yourself. The good news is that shops across Sheridan County are poised to help you fill 'em up with world-class tchotchke.
Rolling into town from far afield? We hope you have taken our advice to come on the back roads from Devils Tower through Clearmont. The Clear Creek Stop has plenty of unique Wyoming goodies to help you stuff those stockings.
For the mountain folk in your life, nothing beats a pocket knife, arrowhead, or other sharp pokey instruments that you can pick up from Rocky Mountain Discount Sports, Sportsman's Warehouse, or the Sport Stop. Just remember to bubble wrap them before putting them in the stocking. The fisherman in your life would appreciate a new set of flies to start the year off with or maybe a guy on a buffalo cap from the Fly Shop of the Bighorns.
The cuisine connoisseur in your life will love a premium certified olive oil and vinegar that Verdello has on tap. Just make sure not to pour it directly into the stocking! For the foodie that always seems to be short on time, head to Cottonwood Kitchen + Home, where there is a large selection of Stonewall Kitchen products where they will feel like a professional chef in just a few minutes.
Do you have a crafty crafter in your life? Pick up something from Quilters' Fix or the Fiber House and encourage them to sit by the fire and ignore the madness surrounding them this Christmas. Don't miss the one-stop shop for all things festive and bright, NEST Home & Holiday has more merry swag than the fat man's bag.
Are you shopping for the coffeeholic? Head to Bison Union, where you can pick up a selection of freshly ground coffee bags, mugs, travelers, and even hot cocoa mix that will be the perfect complement to your cinnamon roll Christmas breakfast.
Everyone appreciates the smell of a freshly cut Christmas tree, so why not give them the opportunity to have it well after you've chucked the tree out the door? Stop into WYO Candle Co. for their freshly poured candles, like the Tannenbaum Timber. Or pick up a classic Wyoming Collection-Leather Oak candle that is perfect for the home or office.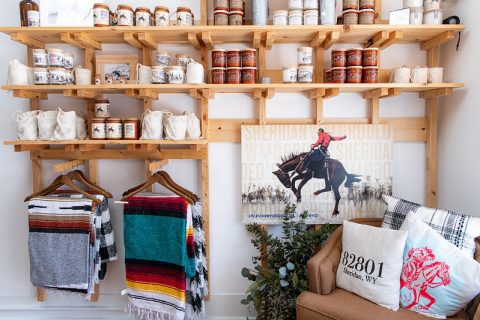 ---
#VisitSheridan #SheridanCounty #GiftGuide #ThatsWY