*OK, first thing – you need more than one day to experience the cowboy way. Plan to spend at least three days immersed in the legend and lore of local icons and outlaws. You'll be glad you did.
They say timing is everything, and for the most authentic western experience in America, visit Sheridan during WYO Rodeo Week. If you can't be here during the WYO, consider an immersive experience like the Bots Sots Remount Horse Sale, Don King Days, or the Sheridan WYO Winter Rodeo (for fans of skijoring, hot cider, and frosty mountain peaks).  Saddle up for our One Day as a Cowboy itinerary:
DAY 1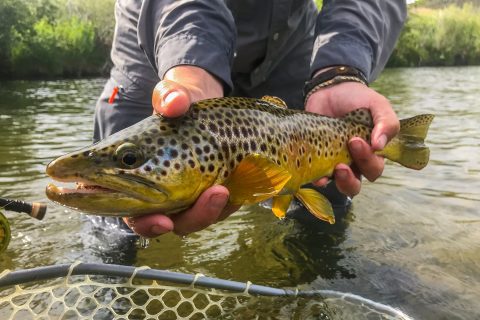 You've booked a stay at one of Sheridan County's legendary ranches or mountain lodges, and you wake up to the sound of elk buggling or roosters crowing. Your day as a cowboy is just beginning. Spend an hour tossing a fly line into a stream, cover a bit of ground on horseback, or photograph moose, elk, deer, or dozens of beautiful migratory birds as you take in the majesty of the mountains.
If you're staying somewhere closer to town, it's time for breakfast; head to Main Street Corner Cafe for chicken fried steak and gravy. Yes, you read that correctly.
Travel south to friendly Johnson County, and the Hole-in-the-Wall Outlaw Hideout (2.5 hour drive). The Hole-in-the-Wall is a colorful and scenic red sandstone escarpment that is rich in legends of outlaw activity from the late 1800s, most notably Butch Cassidy and the Wild Bunch Gang. The "hole" is a gap in the Red Wall that, legend has it, was used secretly by outlaws to move horses and cattle from the area. Even Jesse James is reported to have spent time here. Contact Sheridan Travel & Tourism for directions and trail conditions.
Stop in the hamlet of Story on your way back; the Wagon Box Inn maintains beautiful cabins and a spectacular outdoor restaurant that specializes in prime rib and steak. Hungry yet?
---
DAY 2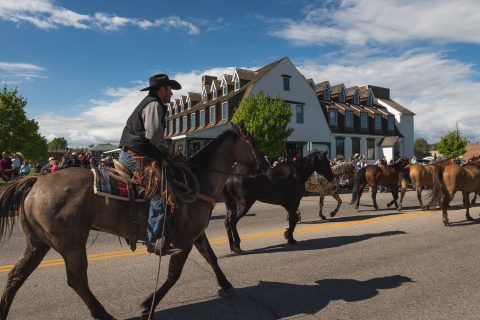 Plan on getting your boots dirty today. You're going to cowboy up for breakfast at Midtown Cafe on Main Street before heading out for another day of action.
If it's late May, you're in luck; the Eaton's Horse Drive is an annual tradition that captures the icons & outlaws still roam this wild countryimagination of the community. Cowboys from Eaton's Ranch drive their herd in from winter grazing areas straight through town – down 5th Street in front of the Sheridan Inn, across Main, and out toward the ranch.
If you're a guest at one of the ranches, it's time to saddle up for the pack trip of a lifetime. There's nothing like riding into the Bighorns with the sun at your back and the mountains towering above you.
If you're not a guest at a ranch, you can book a pack trip with Range Land Enterprises or Nelson Outfitters. Expeditions range from two to five days.
Belly up to the bar at The Mint, the famed former speakeasy on Main. Tip one back and take the trophy tour, explore history through photographs, and check out the thousands of brands on the wall panels.
---
Day 3
Today we're going to test your mettle. Take your breakfast with a side of pie at the cozy Cowboy Cafe, the beloved local dining spot. If you're here in the winter, we hope you'll stay for the WYO Winter Rodeo (annual, February). Skijoring, a sport where a horse and rider tow a skier along a snowy course marked by jumps and other obstacles, is the tentpole event. Are you cowboy enough to strap on the skis? The skijoring course on Broadway runs between Black Tooth Brewing Co. and Luminous Brewhouse.
If you're visiting another time of year, head to King's Saddlery to witness the masters of rope making and leather crafting at work, and try tossing a rope yourself in the Don King Museum. Or book an archery class at Rocky Mountain Discount Sports, and let your inner Robin Hood loose.
You could spend your afternoon enjoying polo in Big Horn, or at a picnic at Kendrick Park; the horse shoe competitions at Kendrick can get fierce.
Keep your eye on the community calendar for live country music performances at the WYO Theater, Trails End Concert Park, and Luminous Brewhouse. Sheridan knows how to rock.
*The following information is current as of November 1, 2019. Business and attraction hours, addresses and contact information are subject to change without notice. 
---