July 19, 2018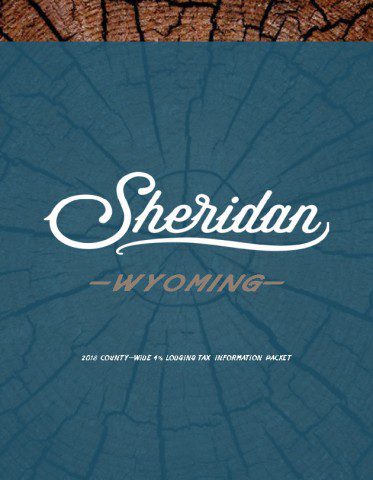 The Sheridan Travel & Tourism Board of Commissioners voted unanimously in favor of implementing a 4% County-Wide Lodging Tax across Sheridan County. The City of Sheridan, and the Towns of Dayton, Ranchester and Clearmont have supported this initiative, and the Sheridan County Commissioners have voted in favor of allowing citizens of Sheridan County to vote on the County-Wide Lodging Tax in the November 2018 General Election.
The current 4% City-Wide Lodging Tax applies only to lodging establishments in the City of Sheridan; this tax rate WOULD NOT CHANGE. If implemented, Sheridan County lodging establishments would have the same 4% Lodging Tax rate as City of Sheridan establishments.
Local Lodging Tax funds are used to market, promote and advertise Sheridan and its attractions and events to potential visitors from domestic and international markets.
LOCALS DO NOT PAY THE LODGING TAX. The Lodging Tax is paid only by visitors staying overnight in hotels, motels, RV parks, campgrounds, guest ranches and B&Bs. The Lodging Tax has always been and will remain a tax that locals do not pay.
Tourism is the second-largest industry in Wyoming and is critical to the diversification of the State's economy. Travel & Tourism spending in Sheridan County is worth more than $100 million per year.
County-Wide Lodging Tax revenue spending would be governed by a Joint Powers Board, with representation from each of Sheridan County's municipalities. The Joint Powers Board details contained in this document are based on Wyoming State Statute.
The Lodging-Tax vote does not jeopardize other initiatives like the 1-Cent Optional Sales Tax vote. Historically, both initiatives receive overwhelmingly positive community support. The City-Wide Lodging Tax passed with nearly 76% of the vote in the 2016 General Election.
Only four other counties in Wyoming do not have a County-Wide Lodging Tax. Park, Campbell, Teton, Natrona and other major tourism destinations across Wyoming have implemented County-Wide Lodging Tax that allows them to market their destinations.
County-Wide Lodging Tax collections would begin July 1, 2019.
A breakdown of how additional Lodging-Tax funds would be used to market Sheridan County is included in this packet. Information on how the current City-Wide Lodging Tax is used to market the community is also included.