Sheridan Community Land Trust 'closes the loop' by opening The Link and Kicking Horse – two new community trails where people can enjoy the 'away from town feeling'
Trails open to public on Friday, October 16 2020
The Sheridan Community Land Trust has met a longstanding goal as two new trails now open to the public – The Link and Kicking Horse Trail – have closed the loop on the Soldier Ridge Trail System while creating more opportunities for people of all ages to experience nature close to home. 
Combined, the two trails total nearly three miles on the west edge of Sheridan, connecting Hidden Hoot Trail to Soldier Ridge Trail through the Sheridan Heights Ranch and Black Tooth Ranch. They effectively close what is a loop of more than nine miles of non-motorized, natural surface recreation trail within minutes of downtown Sheridan.  
Both trails will take users across open vistas with stunning mountain views, secluded draws and the opportunity to see charismatic range wildlife like mule and white-tail deer, pronghorn, prairie dogs and up to 10 species of raptors including the threatened burrowing owl while experiencing a working cow-calf ranch. 
"These trails are a perfect example of what we call ranching and recreation working 'hand in glove,'" remarked SCLT Executive Director Brad Bauer. "Because of the vision of Sheridan Heights Ranch, Black Tooth Ranch the City of Sheridan and Sheridan County, our community has a rare opportunity to conveniently enjoy and experience the outdoors close to home."
While the lines on the map show The Link and Kicking Horse Trail as one continuous path, it is the differences in the two trails that bring greater diversity in recreation opportunities at the Soldier Ridge Trail System.
The Link – an ideal beginners bike trail
The Link takes its name as an homage to the land on which it sits – Kendrick Golf Course. Originally envisioned as a short span to connect Hidden Hoot Trail to what has become Kicking Horse Trail, continued interest from the City of Sheridan allowed SCLT to turn this 1.2-mile trail into an ideal trail for people, young and old, to learn how to ride mountain bikes. 
"It's a good family trail and not as steep as other trails in the area and flows well in both directions," said Ronnie Wagner, SCLT Trail Builder/Construction Supervisor. He explained that grades were kept low to make an inviting ride for new riders while still providing enough entertainment for experienced riders to keep coming back for a riding lunch or a fun way to wind down a workday or weekend afternoon. 
The design, Bauer added, will also be of great appeal to runners, hikers and other users, who will enjoy the lay of the trail and the views as they traverse the stretch. That's something Bauer said the City of Sheridan recognizes is of great value to residents and visitors alike. 
"The City of Sheridan has been a tremendous partner in helping SCLT respond to the desire of people in Sheridan County who have overwhelmingly said they want more hiking and biking trails close to home. Without their help, an opportunity like The Link wouldn't be possible," Bauer stated. 
Like Hidden Hoot Trail, visitors are asked to keep pets on leash at all times. 
Kicking Horse Trail – An "away from town feeling" whether you're on two legs or four
Once you're on Kicking Horse Trail, you may notice it being wider in spots – that's because this 1.7-mile trail is open to equestrian use along with all other forms of non-motorized use. That means users now have nearly six miles of trails open to horses close to town. 
Wagner said Kicking Horse Trail, in particular, "gives you the away from town feeling." 
That serenity is exactly what so many trail users seek, and it's something they'll experience in spades as they travel through the area along Jensen Draw. 
"Once you drop into the draw, you feel like you're in a whole different area," Wagner concluded. 
There is one bridge on the trail, a span over the Alliance Ditch Lateral, though Wagner said its five-foot width makes an easy crossing for users, whether they're on two legs or four.  
Users are also reminded to take note of a small section of Kicking Horse Trail that utilizes rock cairns to guide users to the connection with Soldier Ridge Trail. Rather than developed trail, users are asked to follow the natural range surface between the rocks to comport with a voluntary conservation easement on the land. When encountering the area, you will see small rock cairns, some marked with "KH" to identity Kicking Horse Trail. 
Pets are permitted at Kicking Horse Trail, though they must be leashed when livestock or wildlife are present. However, once users enter the rock cairn portion of Kicking Horse Trail, pets must be leashed. 
Building for the future
With the completion of The Link and Kicking Horse Trail, the public can now access nearly 10 miles of recreational trail on the west edge of town. However, it does not mean the Soldier Ridge Trail System is complete. In the near future, as part of a continued partnership with City of Sheridan, SCLT will build approximately 2.4 new trail miles in the southwestern portion of Kendrick Golf Course. These new trails will connect to The Link and Kicking Horse from a new parking area and trailhead which will improve access for members of the community. 
"These trails continue our mission to make it easier than ever before to go from your front door to the outdoors in Sheridan County," Bauer concluded.
To view and print trail maps or for more information about Sheridan Community Land Trust, please visit https://sheridanclt.org/.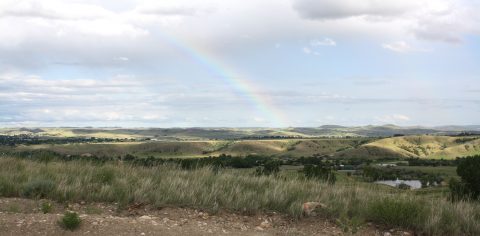 View from The Link — Visitors to The Link, a new trail recently opened by Sheridan Community Land Trust, will experience great views as evidenced by this rainbow reaching across the Goose Creek Valley. 
---
Rider at The Link — After helping build the trail at a volunteer night, Logan Moxey enjoys the fruits of his labor by helping make some of the first tracks on The Link, one of two new trails opened by Sheridan Community Land Trust.
---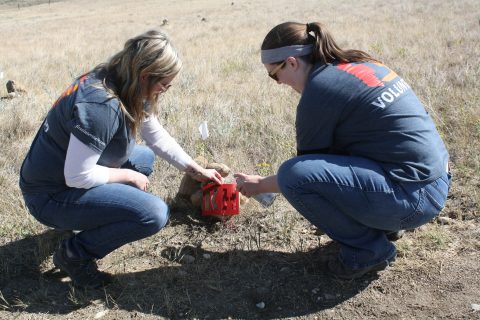 Kicking Horse cairns 1 and 2 — Volunteers from First Interstate Bank paint "KH" marks on rock cairns that mark the final segment of Kicking Horse Trail to its junction with Soldier Ridge Trail. As its name implies, Kicking Horse Trail – one of two new trails opened by Sheridan Community Land Trust – is open to equestrian use. 
---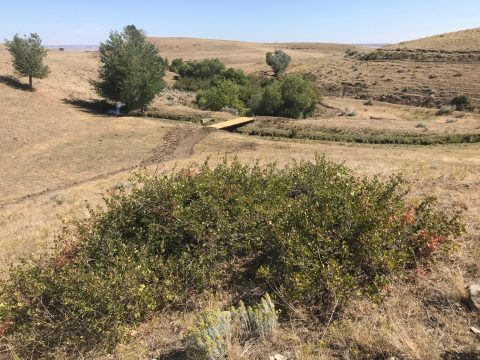 Kicking Horse at bridge  — Visitors to Kicking Horse Trail, one of two new trails opened by Sheridan Community Land Trust, will have an "away from town feeling" while being only minutes from downtown Sheridan. 
---
Chris Vrba | Sheridan Community Land Trust