Two Day Sheridan County Road Trip
The Other Side of the Tracks: Explore Historic Highway 14
The small town of Clearmont, located on the eastern border of Sheridan County, was once one of northern Wyoming's busiest communities. Before the 1963 construction of the Interstate 90 bypass (connecting Gillette to Buffalo), Clearmont's Black to Yellow Highway (US Highway 14) was the preferred route for travelers making the journey between the Black Hills and Yellowstone National Park. The community boasted two grocery stores, a lumber yard, restaurants, seven gas stations, and plenty of attractions to keep the traveling public occupied on the trip from Gillette to Sheridan. Times have changed, and today most visitors arrive in Sheridan via the interstate – but there's still plenty of history to explore in and around Clearmont.
In 1890, the Pratt & Ferris Cattle Company controlled the valley where Clearmont is located; farming and agriculture have been important to the region ever since. Before Clearmont became a town in 1892, there was the town of Huson, complete with a cemetery, post office, and local press. Huson ceased to exist in November 1892, just six months after its post office was established, because the Burlington and Missouri Railroad Co. owners didn't like a bend in the track and chose Clearmont instead as the location for its new station. A fire in the 1920s destroyed a row of buildings that included the Rock Hotel and Saloon, a meat market, and a popular confectionery store.
This itinerary begins at Devils Tower National Monument and ends at the Bighorn National Forest. It can be done as part of a longer road trip, or on a loop, with Sheridan as your base. 
---
Day 1: Morning
After visiting Devils Tower National Monument, head west for Moorcroft; here, you'll get on I-90 to Gillette. Look for the Highway 14 exit and drive for 68 miles through beautiful countryside, passing through tiny outposts like Recluse (a quick detour off Recluse Road), Spotted Horse, and Arvada. Arrive in Clearmont and visit the Clear Creek Stop to fix up on snacks, food, and fuel. Visit the Clearmont Town Jail (built in 1922 and listed on the National Registry of Historic Places), snap photos along the river, and drive along a dirt road for some stunning scenes of Wyoming life. 
Come out on June 18, 2022, to celebrate Clearmont's history on Clearmont Day, a family-friendly event that will show you just what you've been missing on this beautiful old Wyoming back road.
---
Day 1: Afternoon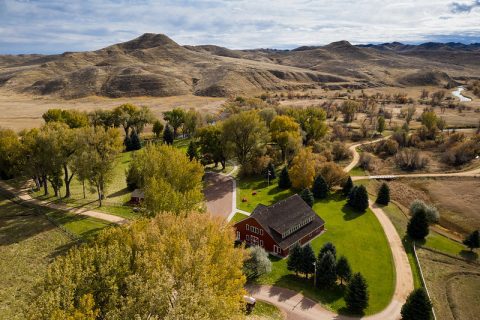 Further along Highway 14, you'll come to the town of Ucross, home to the 20,000-acre Ucross Foundation and art gallery. Step inside the historic Big Red Barn to see fine art exhibits open to the public at no charge. The displays you will see are eclectic, refined, and beautiful.
Further along, you'll find The Park at Ucross, "representing the Ucross Foundation's ongoing efforts to honor and preserve this extraordinary corner of the American West." Fun fact; the chapel here is modeled after The Church of the Good Shepherd at Lake Tekapo in New Zealand, a location that Ucross Foundation founder Raymond Plank had an affinity for. 
Next is the antique gallery of your dreams; Turned Antiques features over 10,000 square feet of early American antiques and contemporary home furnishings. Turned Antiques opens each June and is a destination for antique hunters from across the country.
---
Day 1: Evening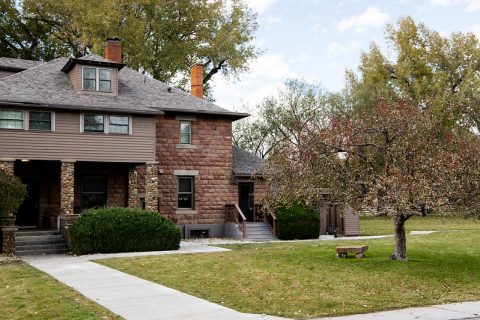 Backtrack roughly 8 miles for your first overnight in Sheridan County. The Ranch at Ucross is one of the region's best-kept secrets; here, guests can hike, bike, fish, ride horses, or chill by the pool in a spectacular natural setting. Book a night (or two… or three…) because you deserve to unwind in a setting this spectacular. 
---
Day 2: Morning
Rise and shine early to see the sunrise and enjoy a hearty breakfast at the Ranch before continuing your county road trip. Once properly fueled, get back on Highway 14, and head west toward Sheridan. Turn off at Turned Antiques and follow the gravel Lower Piney Creek Road as it courses through some of the region's largest working cattle ranches – keep an eye out for meandering moo machines that might be crossing the road. Take a right on US 87; a few miles down the road, turn on to Kearney Lane. Just up the hill, you will see Fort Phil Kearney. 
The largest of the three forts built along the Bozeman Trail leading to the gold fields in Montana, Fort Phil Kearny was established by the U.S. Army on July 15, 1866 near present-day Story, WY, along with Fort Reno northeast of present Kaycee, Wyoming. and Fort C.F. Smith, Montana.
Fort Phil Kearny's original purpose was to protect freighters, gold prospectors and other travelers along the "Bloody Bozeman" from attack by Plains Indians wary of further encroachment by pioneers and the military.
An 8‑foot‑tall wooden stockade fortified Fort Phil Kearny's 17 acres. Two major battles, the Fetterman fight and the Wagon Box fight, occurred near the fort along with numerous smaller skirmishes. The Fetterman fight in December 1866 resulted when Capt. William Fetterman allowed himself and his troops to be lured over a hill north of the fort and outside of timely supportive distance from Fort Phil Kearny. He and all 80 men in his command were killed by Cheyenne, Arapaho and Sioux warriors. You can visit both the Fetterman and Wagon Box sites (along with a monument dedicated to Portuguese Philips) on your way toward Sheridan. 
The Wagon Box Fight, in August 1867 a few miles west of Fort Phil Kearny, developed when 32 woodcutters and guards were attacked by the forces of Oglala Chief Red Cloud. The men defended themselves with new breech-loading rifles, firing from a corral of wagon boxes and staving off the Indians until help arrived from the fort.
After the U.S. government enacted the Fort Laramie Treaty of 1868, the forts along the Bozeman Trail were abandoned. Shortly after the troops left Fort Phil Kearny in the summer of 1868, it was burned down, probably by Cheyenne forces.
Fort Phil Kearny was named to the National Register of Historic Places in 1960. Now, trails lead visitors to the sites of the conflicts, and interpretive signs explain the events from the perspectives of both the military and Indian groups.
---
Day 2: Afternoon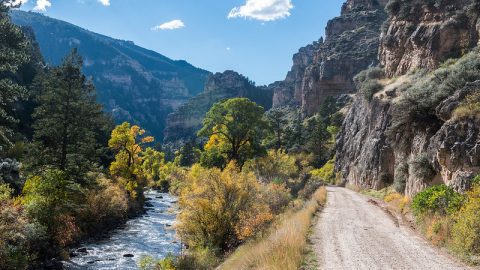 Once you have become a frontier history buff, follow Highway 87 directly into Sheridan for lunch. On the south side of town is Killy's Smokehouse – the brisket sandwich and sidewinder fries are a must – or head downtown, where you can experience a food scene that features local cafes, steak houses, the best food truck options in the state, and everything in between. There is so much to explore in Sheridan that you may turn this two-day trip into, dare we say, a week-long adventure.
While in Sheridan, take a stroll down Main Street. Main Street is a national historic district, but it's no museum — Sheridan is a vibrant community with old west charm, and this broad avenue is the main shopping and strolling thoroughfare. Here you'll find plenty of shops, boutiques, galleries, restaurants, breweries and bars – as well as more than 100 pieces of public art in the downtown sculpture garden. 
When you're ready to hit the road again, head North to Ranchester. Once again, you will be on Historic US Highway 14, which runs through the town center. Visit the Wyoming Buckshot Saloon or the Innominate Coffeehouse & Bakery for some fine Wyoming fare, then stop for a visit at the Connor Battlefield. Connor was the single most important engagement of the Powder River Expedition of 1865. It caused the Arapaho to ally with the Sioux and Cheyenne at the Fetterman Fight a year later. The park has picnic areas, a playground, overnight camping facilities, fishing access, and historical interpretations.
As you enter the foothills of the Bighorn Mountains, you will want to take the chance to stretch your legs one last time. Dayton, Wyoming, is the gateway to Tongue River Canyon, a trail known for its scenic beauty and endless cave system. If a stroll through town is more your pace, Dayton itself is chock full of frontier history, unique shops, cafes, restaurants, and galleries. 
---
Day 2: Evening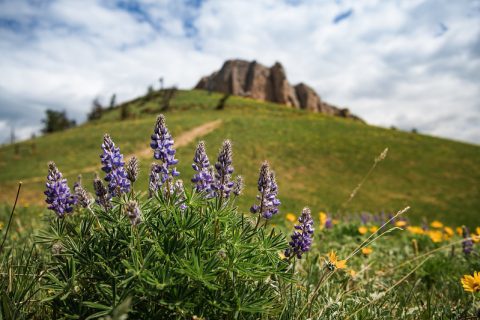 As you leave Dayton, you will begin your journey on the Bighorn Scenic Byway, continuing on Highway 14. Along your drive, take in the breathtaking panoramas of the mountains and opportunities to spot the biggest game in the Bighorns. 
Stop off at Steamboat point for a short, 1.7-mile round-trip hike for a breathtaking view of the sunset. This is one of the most spectacular perches in Sheridan County, with stunning views over the whole of Sheridan County and the Cloud Peak Wilderness. As Steamboat hike is only twenty minutes from Dayton, you could head back down for a bite to eat and a night's rest or continue up the mountain where you will find Arrowhead lodge ready to serve you a burger and a place to stay.
To finish your county road trip, the Bighorn Scenic Byway becomes the Medicine Wheel Scenic Passage as you come to Burgess Junction. This two-lane highway will be the high point of your trip – literally – at 9,430 feet; you can view the Bighorn Basin thousands of feet below. Some Mountain peaks tower above 13,000 feet, and you will find the Bighorn Medicine Wheel on the slopes. This landmark is a sacred, historic site and an archeological wonder, believed to be constructed in stages by Native Americans over the past 1,000 years. You will have astonishing views and possibly the perfect sunset photograph to end your Sheridan County road trip at the National Historic Landmark, the Bighorn Medicine Wheel.
Mandy Smith | Sheridan County Travel & Tourism | May 2022