We consider it a fact that any time of the year is great for taking a relaxing vacation but there's something about fall that makes our hearts beat a little faster. On top of the natural splendor and color-changes taking place across the state of Wyoming, Sheridan offers a unique spin on a typical fall vacation with snow-capped mountain vistas to the west, rollings hills to the east, and a deep western heritage rooted right in the center of town.
1. Fall Colors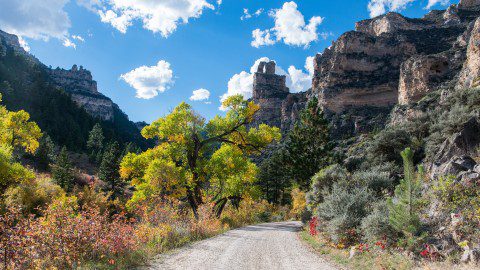 Let's get the obvious one out of the way first. It's pretty hard to beat fall foliage at its peak no matter where you are. According to this fall foliage map, peak leaf-peeping season comes to Sheridan in mid-October, but glimpses of fall begin as early as September and continue as late as November. The Bighorn Mountains are blanketed in trees displaying colors of fall, though the views are exceptionally colorful in Tongue River Canyon. Tucked away in the pocket of some of America's oldest towering limestone walls, the yellows, oranges, and reds turn Tongue River Canyon into a majestic fall paradise. Few things are better that time of year than cruising with the windows cracked, fresh air flowing, and endless views of nature's sweeping yellow-orange masterpieces.
---
2. Fishing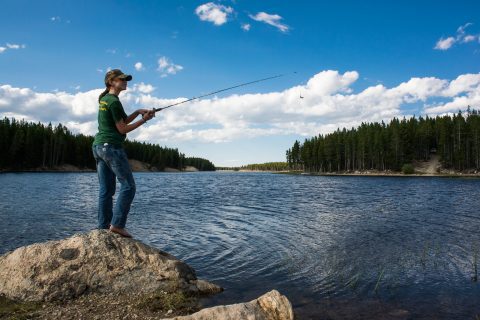 Fishing in the Bighorn Mountains never ends in disappointment – regardless of whether you hook a monster or not. As the temperatures drop and the leaves begin to change color, river-dwelling trout head upstream for spawning season. This means schools of full-grown trout are clustered together, all headed for the same place, as they prepare to hunker down in deeper waters for the winter. Don't put away those rods and reels yet as the rivers and streams of the Bighorn Mountains are about to become a haven for world-class fishing.
---
3. Fashion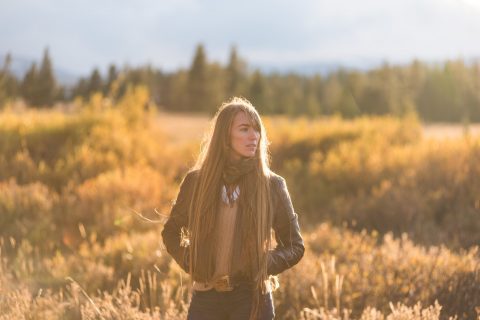 A stroll down Sheridan's Historic Main Street will be an obvious sign of the changing of the seasons. Storefronts like Over the Moon, Crazy Woman Trading Company, Western Grace, and The Clothing Co. and Baby Too will be transitioning their summer displays of floral dresses and sandals to cozy scarves and oversized sweaters. The average temperature during the fall months in Sheridan is around 62 degrees Fahrenheit, over a 20 degree drop from the average summer temperature! If that's not an excuse to go shopping for a new and warmer fall wardrobe, I don't know what is!
---
4. Football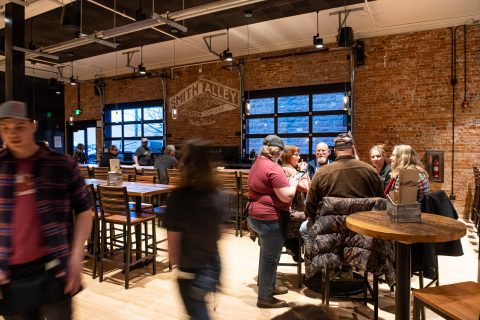 Wyoming is one of the 27 states without an NFL Football team, but to be honest, we think that's a good thing! That means that no matter what team you're rooting for, you're welcome in Wyoming during football season (unless maybe you're a Patriots fan…). Sheridan is brimming with places streaming your favorite team on game days from the Pony Bar & Grill, Bistro 307, Smith Alley Brewing Co. and so many more! Visiting Sheridan in the fall means you'll probably meet some of America's most rowdy and friendly football fans, so don't forget to pack your favorite jersey!
---
5. Food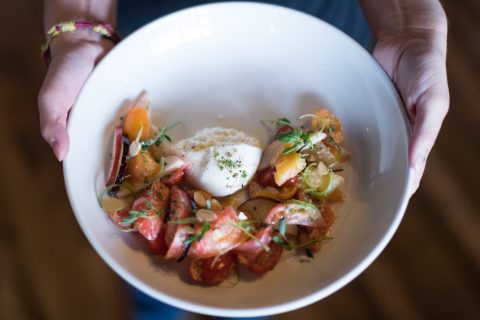 The food scene in Sheridan County is unlike any other with over 50 locally owned and operated restaurants, food trucks, and breweries in the area, most of which source their ingredients locally. With over 1.4 million cows in the state of Wyoming, nearly outnumbering Wyoming residents three to one, Wyoming beef is second to none. A beef and potato burrito from Bonafide or the soup du jour at Frackelton's or birch this fall will give you the same happy feeling like a warm cup of apple cider or hot cocoa does.
Sheridan, Wyoming is one of those places that just has it all, an honest truth that is almost hard to comprehend. The extraordinary colors of fall, the epic outdoor opportunities, the history and heritage, and the vast variety of locally sourced and delicious cuisine make Sheridan the ideal destination for your fall vacation.
Bailey McLean | Sheridan Travel & Tourism