Excuse us for boasting, but we would like to share some great news for you and your canine companion. Sheridan has recently received recognition as a Dog Friendly City! We met the criteria that includes, but not limited to:
1). Number of dog parks.
2). Availability of dog trails.
3). Amount of pet friendly restaurants.
4). Options for pet friendly lodging.
5). Availability of dog daycares.
6). Emergency Veterinary care.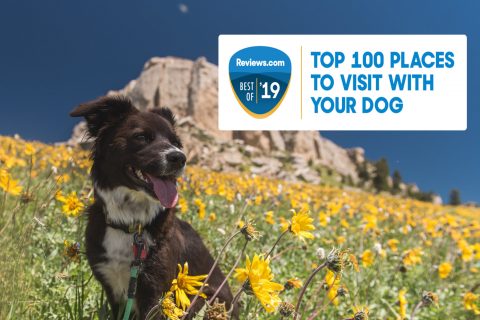 Let's discuss some of the local elements in this criteria list. Sheridan has 3 off leash dog parks. Huntington Bowl is located on Huntington St. in the southwestern area of Sheridan. North Park is located near the Thornerider Sports Complex in the northern portion of the city. Finally, Lions Club Park is on Sheridan Ave. in the eastern section of Sheridan. Oh, lets not forget the Information Center at I-90 Exit 23. There is a pet exercise area for your road weary pup as well!
If your pooch will come back when called you can have a great adventurous time in the nearby Bighorn National Forest, the opportunities are endless! Among the favorites is the Red Grade Trail that offers great vistas in the mountain landscape. Want to keep your pooch on a leash? Then try the many different pathways that meander through the town as well as on the outskirts. All these areas offer a great jaunt both of you can enjoy.
You will need to find pet friendly lodging and of course, we met the criteria for that as well. Choose from a wide variety of accommodations with a vast array of amenities that will satisfy both you and your fine furry traveling companion.
Getting thirsty and hungry after all this fresh air, freedom and fun? Try a walk downtown and search out a caffeine cafe, such as Java Moon – furry friends are welcome on their outdoor patio area. Want a different libation? Explore one of the local breweries, they have outdoor seating and your tail wagging friend will feel welcome and comfortable. Afterwards, enjoy dining at, yes, again, a pet friendly restaurant! A great way to dine with your dog is by visiting a local food truck – Bonafide, Hetty's Pizza, WYO Thai, and the Burger Wagon are a few great options. Stop at the office of Sheridan Travel and Tourism at I-90 Exit 23, in the Information Center and obtain a list of pet friendly establishments.
So when you are seeing those "are we there yet so I can run" look in your canine companions eyes, you can assure that pal that several options and good times are awaiting both of you in Sheridan, Wyoming, Pet Friendly City!
Oh, bow-wow, thanks for letting us indulge in our bravado!
Nancy Herdt | Sheridan Travel & Tourism