8 Bucket-List Fish You Can Catch Around Sheridan, Wyo.
Ernest Hemingway visited Sheridan with two objectives. The first was to get away from the distractions of civilization so he could finish his novel, A Farewell to Arms. The second objective was to head for the Folly Ranch, where there were trophy size trout to be caught. Like Hemingway, the waters of Wyoming have aroused the curiosity of fisherman for decades. With over 4,000 lakes, 27,000 miles of streams, and unparalleled beauty, anglers are welcomed to a fishing paradise. The cold waters from the Bighorn Mountains and the combination of warm water tributaries flowing through the lowlands make perfect habitats for trout, crappie, walleye, and storybook beasts like the legendary tiger muskie and the jurassic shovelnose sturgeon. If you are planning a fishing trip to cross off some fish from your bucket list; look no further than Sheridan. Eight of the most fascinating fish that you may hook onto while dipping a line in Sheridan's many fishing areas.
---
TROPHY SIZED BASS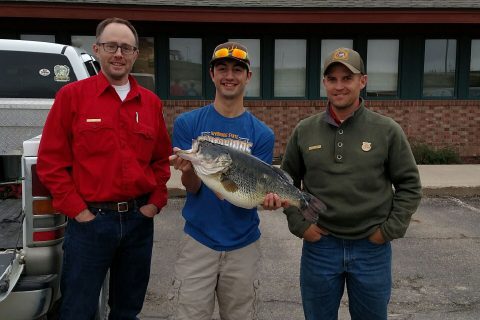 The Kleenburn Ponds, a scenic natural area with fishing opportunities and wildlife viewing, are home to monstrous largemouth bass. In 2018, an 11 ½ lb largemouth bass was caught, shattering Wyoming's record by four pounds and was one of the largest to ever be caught west of the Mississippi River. The lower Tongue River, South Park Recreation Area, and Tongue River Reservoir are just a few other places that contain healthy populations of bass. The Tongue River is just a few steps away from the Kleenburn Ponds allowing for diverse fishing area perfect for families. If you don't have enough poles for the entire family, Joey's Fly Fishing Foundation offers custom rod building for kids.
---
NORTHERN PIKE

The Tongue River Reservoir is famous for its massive stock of Northern Pike and ice fishing. These prehistoric monsters grow big and grow in abundance 20 miles north of Sheridan. Northern pike are aggressive predators, so it's best to carry a selection of minnows and jerk bait; or try something new by catching Northern on a fly rod with the guides at Fly Shop of the Bighorns. Heavily weeded areas are prime habitats for pike as they use the vegetation to ambush their prey. The largest northern pike ever caught in the Sheridan area weighed in at 37 ½ lbs.
---
ARCTIC GRAYLING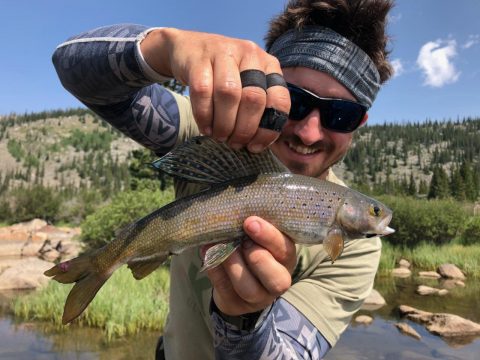 The arctic grayling is a rare fish to catch in the alpine lakes and streams of the Bighorn Mountains. Grayling have gray scales with a tall and more colorful dorsal fin than their trout relatives. They aren't monstrous fish as they typically grow to about 3-4 lbs, but they are majestic with their bright colors and choice of habitat. The journey to catch this beautiful fish just might be the best part. The high altitude fisheries of the Cloud Peak Wilderness is where grayling make their home. It's easy to see why, as there are few people and hardly any natural predators. When fishing the 189,000 acre wilderness area of the Bighorns, make sure to stop by Quill Gordon's and grab some hand tied caddisflies. Both brook trout and arctic grayling pray are known to pray on these. Weston Reservoir, just below the wilderness boundary, is well known for its grayling.
---
SPLAKE TROUT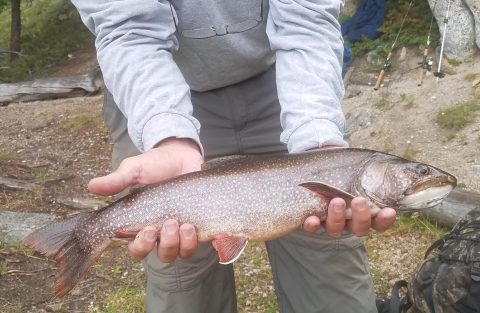 Splake trout lurk in the deep waters of the Bighorn Mountain lakes. Slake are hybrids of a male brook trout and female lake trout with the spots and dark complection of a lake trout but with a red belly and fins. Splake seldom reproduce, making this fish a truly once-in-a-lifetime catch for all anglers. Your best chance of catching a splake is by fishing deep and using a non motorized boat or raft at Park Reservoir. The reservoir is 30 miles from Sheridan up the breathtaking Red Grade road, and is popular for its panoramic wilderness views, sandy beaches, and its splake trout population. Even if you can't catch this rare fish, spending a day at Park Reservoir is never disappointing.
---
YELLOWSTONE CUTTHROAT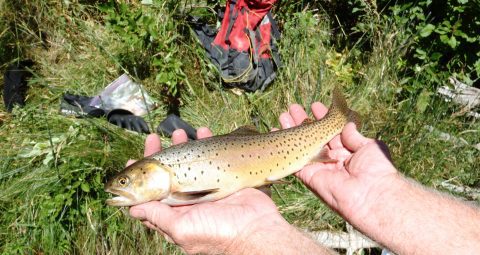 For over 100 years, anglers have trekked miles into the Bighorn wilderness just to cross this fish off of their bucket list. The Yellowstone Cutthroat is an iconic fish that can't be found anywhere but in the Rocky Mountain West. Yellowstone Cutthroat are distinguishable by their large black spots, gold tinted skin, and signature red stripe to go with their bright red gills. This prized game fish can be found in deep pockets of the Little Bighorn Canyon not far from Porcupine Falls.
---
TIGER MUSKY

Otherwise known as the fish of 10,000 casts because of its intelligence and rarity. This fabled hybrid can be found in a few lakes and ponds around the Sheridan area. Tiger muskies, marked by their black tiger stripes, are a cross breed between the muskellunge and northern pike. The Tongue River Reservoir 20 miles north of Sheridan in Montana is home to these feisty beasts while Healy Reservoir, 30 miles to the south, is known to have a few tiger muskies. Before heading out, take a trip to Brundage Lane and stop by Jake's Lures to pick up a handmade wobbler lure, designed specifically for game fish.
---
SHOVELNOSE STURGEON

The shovelnose appears to be straight from Jurassic Park and their home in the Bighorn Canyon National Recreation Area is a primordial setting itself. The desert landscape has been carved out by the Bighorn River over millions of years. The rivers erosion has created thick sediment layers that paint the walls with various colored soils. It's no wonder why sturgeon thrive in this location. The shovelnose resembles a dinosaur with its elongated body, bony spine, and a long tail. These bottom dwellers feed on insects, worms, and crustaceans and can also be caught in the lower Tongue River drainage and the Powder River Basin.
---
GOLDEN TROUT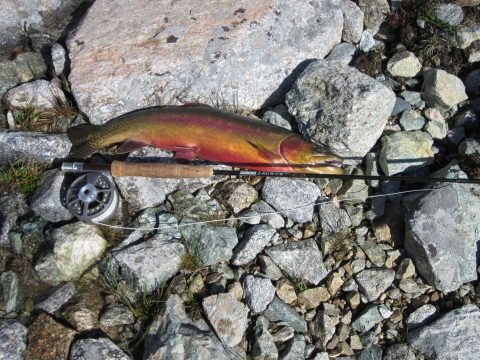 Named after their strikingly yellow appearance, these fish should really be called the golden trout because catching one them is like discovering gold. Their rarity, beauty, and choice of habitat make these fish almost sacred. Golden's live in the coldwater streams near and above the treeline. Luring in a golden trout in the Bighorn Mountains would be the ultimate fishing story. Imagine hiking deep into the wilderness of Wyoming, using every ounce of your fishing dexterity and knowledge to catch one of these legends. The journey through the serene land and amount of effort to catch one would be unforgettable. Not many have done it. Not because it's impossible, but because not many know of the golden trout's presence. There are very few places in the world that are able to maintain healthy golden trout populations but the Bighorn Mountains seem to make darn good home for all things.
For more fishing information and regulations, visit the Wyoming Game and Fish website wgfd.wyo.gov/Regional-Offices/Sheridan-Region
---
Jeffrey Shanor | Sheridan Travel & Tourism
Photos courtesy of the Wyoming Game and Fish Department