BLACK TOOTH BREWERY Named CraftBeer.com's Great American Beer Bar in WYOMING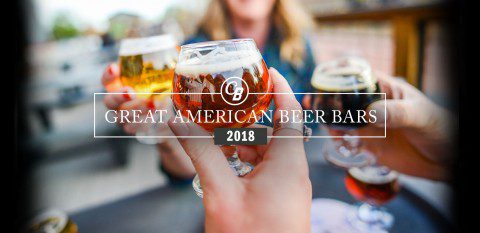 ---
Black Tooth Brewery-Taproom has been recognized as the best beer bar in Wyoming in the annual Great American Beer Bars competition conducted by CraftBeer.com—the Brewers Association's website for beer lovers.
With more than 6,000 small and independent craft brewers operating throughout the country, beer lovers have a bevy of options to indulge and delight in their favorite beverage. To help enthusiasts take advantage of where to find palate-pleasing pints in every state, CraftBeer.com readers were recently polled to determine the best beer bars in all 50 states and Washington D.C.
"Hell yes we're excited! We work very hard every day to create a craft beer that will always exceed the expectations of our customers and is always exceptional in quality. Our taproom holds those same values. We have knowledgeable, fun staff who love the trade, and I believe equally as important, our beer-tenders don't just sell our craft beers they drink craft beer. We are very excited to be representing the Cowboy State," said Jesse Woods, General Manager of Black Tooth Brewery.
"CraftBeer.com readers have an extensive level of insight on what makes a beer bar truly stand out," said Jess Baker, editor in chief, CraftBeer.com. "The Great American Beers Bars, selected by nearly 8,000 individual nominations cast by CraftBeer.com readers, are each stewards of quality craft beer and beer service. These outstanding beer bars, taprooms and brewpubs introduce their customers to new and exciting beer experiences, and have been integral to the success of the independent craft brewing movement." 
Methodology: CraftBeer.com readers were asked to nominate their favorite craft beer bar in their state and fill out a short survey about what makes it so great, including atmosphere, staff, beer selection and special events. Over 7,700 votes were cast from November 2017 – January 2018.
For more information on Black Tooth Brewery, please visit www.btbrew.com or their facebook pages @blacktoothbrewing and @drinkthewest. Instagram and Twitter at @blacktoothbrew Visit CraftBeer.com to view a sortable list and each bar's profile including photos and statistics. Join the conversation using #GABB.
# # #
About Black Tooth Brewery
 Sheridan Wyoming's most highly awarded brewery is located in the heart of the wild west, and at the base of the majestic Bighorn Mountains. At Black Tooth Brewery we are creating fun, unique, and quality craft beer, and have been doing so for over 7 years.
With a humble beginning starting in November of 2010, Black Tooth opened its Taproom doors and brewery with only a 10 BBL brewhouse and Co-Founder Tim Barnes and Head Brewer/Co-Founder Travis Zeilstra holding the paddle. Zeilstra himself is a graduate of the Western Culinary Institute and recipient of the "brewer of the year" award at GABF in 2007. This small beginning for Black Tooth quickly led way to future expansions, and in the spring of 2015 the completion of a multi-million dollar production facility capable of producing upwards of 50,000 barrels of beer a year.
The vision of being a leader in creating quality craft beer in the Rocky Mountain region has now become a reality. Black Tooth now has three of its flagship beers, Saddle Bronc (Brown Ale), Bomber Mountain (Amber Ale) and Hot Streak (IPA) as well as two seasonal offerings Caught Lookin' (Blonde Ale) and Copper Mule (Ginger/Lime Cream Ale coming Spring 2018) available in 6-Pack Cans and Draught statewide in Wyoming as well as parts of South Dakota, Montana and Nebraska.
Within the taproom doors you will find a relaxing yet vivacious tasting room where locals and travelers alike can enjoy a fresh pint, from a wide range of Black Tooth brews. So if your passing through the wild states of the west make sure you stop into the taproom or grab yourself a 6-pack or pint at a local watering hole and #Drink The West!
Jesse Woods | General Man, Black Tooth Brewing Co | jesse@btbrew.com