Next Three Days: Discover Sheridan
Sheridan embodies the best of the Wyoming experience. Deep ranching roots and western graces lend this cowboy town an air of authenticity, while artists and artisans have conspired over generations to cultivate a cultural scene unmatched anywhere in the region. Bold experiences await in the Bighorn Mountains, whether you fish, hunt, hike, backpack, ride or run, while history lives along every dusty trail or scenic overlook. Whether you're new to town or looking to explore more of your own backyard, these Next Three Days will drive you WYLD.
---
DAY 1 – ARTS AND CRAFT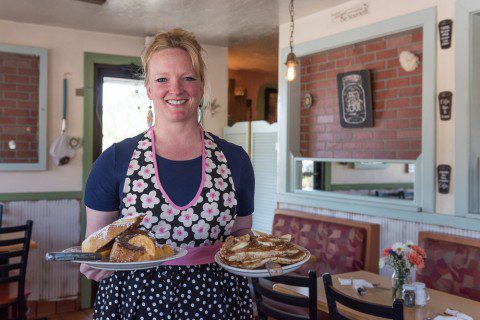 Rise and shine and fuel up for a busy day with a sinfully delicious meal at the Shabby Shack. Chef Terra Willey's peanut butter and banana pancakes are the stuff waking up was made for.
Pick up a copy of the Downtown Sheridan Association's Historic Walking Tour brochure (found here) and the Sheridan Public Arts Committee's sculpture map and explore the art and architecture of downtown Sheridan. Architectural highlights include the County Courthouse, built in 1905, the New York Store, built in 1908 and now home to Twisted Hearts and Red Velvet Bakery, and the WYO Theater, which began life in 1923 as the exotic Lotus, at the heart of Sheridan's entertainment district.
Public art abounds in Sheridan. More than 100 sculptures are on display downtown, with pieces from famed sculptors such as Barry Eisenach (Bozeman Scout, Grinnell Plaza), Chuck Weaver (Raptoround), and the Davinci Science Center (Leonardo's Horse, Downtown Sheridan Association).
A tour of Downtown Sheridan goes hand-in-hand with a bit of retail therapy. Visit Bighorn Design for your Surf Wyoming favorites at their new location at 171 N Main, then stop in at The Union at Montgomery to browse the ever-evolving collecting of globally-sourced art, jewelry and home décor. Travelers to and from Wyoming should consider a set of classic topographic maps from Sheridan Stationery, and pack your beloved's book nook with a selection of great titles from Wyoming authors.
Lunch at Red Velvet Bakery or Frackelton's Fine Food & Spirits, then head over to Red Bison Studios for a whirl around the pottery wheel; Red Bison offers a variety of classes that will allow you to get your hands dirty.
Dig deeper into Sheridan's history and lore with visits to the Sheridan County Museum and the Brinton Museum in nearby Big Horn. You'll pass Sheridan College and the Whitney Center for the Arts on your way out of town – visit their website for a full calendar or events.
Dine in style at birch, chef Travis Sorenson's latest addition to Sheridan's culinary scene. A night cap at the Mint Bar or Weston Winery will set you up for a sound night of sleep at the historic Mill Inn, with beautiful views over Sheridan and the Bighorn Mountains.
---
DAY 2 – THE GREAT OUTDOORS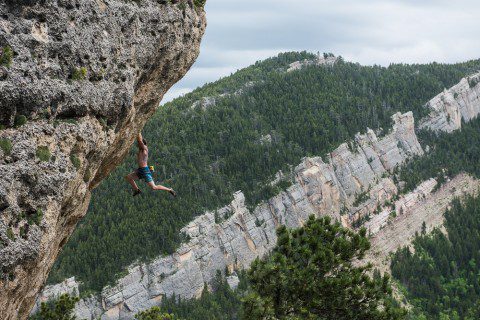 Visit the PO News & Flagstaff Café for a hearty breakfast – you'll need it for a day filled with adventure.
Bighorn Mountain Guides are ready to take you climbing in Tongue River Canyon, South Piney Creek, or Steamboat Point, and offer courses for beginners to experts. If you're in the mood to fish, hook up with a guide from the Fly Shop of the Bighorns. Gravel grinders can rent a bike or pick up extra gear from Sheridan Bicycle or Back Country Bicycle. The Sports Stop or Rocky Mountain Discount Sports have all your outdoor needs covered.
Après-outdoors with a pint of liquid gold at Black Tooth Brewery or pop in to the Koltiska Distillery for a hand-crafted Moscow mule.
Dine downtown at the Cowboy Café or on the patio at The Pony Bar & Grill, then make your way down to the Luminous Brewhouse for an evening of live local music.
Swing under the stars on the porch of the Historic Sheridan Inn, celebrating its 125th year in 2018, and look upon Sheridan from the same place Buffalo Bill Cody used to audition his Wild West Show.
---
DAY 3 – HISTORIC HIGHLIGHTS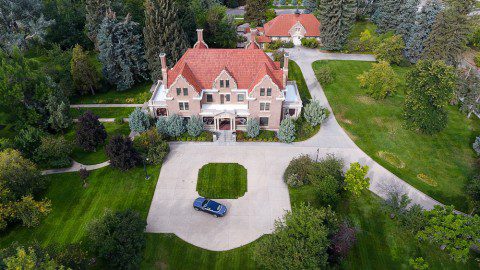 Get up early to explore the many historic sites and attractions in and around Sheridan. Fort Phil Kearny State Historic Site offers a glimpse at an important Indian Wars site and serves as an excellent primer for visiting the Little Bighorn National Battlefield in neighboring Montana. You can also visit the Connor Battlefield, otherwise known as the site of the Battle of the Tongue River, at the City Park in the town of Ranchester.
Find time for lunch at the Big Horn Smokehouse or Big Horn Mercantile, both housed in historic buildings on tiny Big Horn's main drag.
The Trail End State Historic Site is a 14,000 sq-ft Flemish Revival mansion that serves today as a historic house and museum overlooking beautiful Kendrick Park, in the heart of Sheridan's oldest residential area. Sheridan County is home to Eaton's Ranch, the oldest dude ranch in the United States, as well as the beautiful Ranch at Ucross and Canyon Ranch, both postcard-perfect visions of the Wyoming getaway.
Recap your time in Sheridan with dinner at Wyoming Cattle & Creek or the Rib and Chop House, and consider that after three days, you've just begun to scratch the surface of what Sheridan has to offer.