Spring has officially arrived to the Emerald City. Although the Bighorn Mountain peaks remain white, the prairie below is transforming its blanket of snow to a vast sea of green. A Northern Wyoming spring hosts one of the most dramatic changes in nature; in just a few weeks, the prairie becomes a lively oasis for travelers, wildflowers, and wildlife. Outdoor opportunities become limitless as both winter and summer activities are possible; you can go skiing in the morning and then paddle boarding on Lake De Smet a few hours later. But if you're short on time and are looking to experience a Wyoming spring first hand, don't worry, there are plenty of extraordinary options within 30 minutes of Sheridan.
---
SOLDIER RIDGE – 9 Minutes
A trail as legendary as the soldiers and outlaws who once roamed these prairies. Land owners have graciously allowed a section of their land to be used for the benefit and enjoyment of the public. There isn't a trail like Soldier Ridge that really paints a full perspective of Wyoming as much as this one. Everything that is Wyoming can be found on this trail; cowboys, history of the old west, scenic vistas of towering mountains, views of the never ending prairie, and more wildlife than people. For a trail that is only nine minutes from downtown Sheridan, you can find peace and quiet there, aside from the occasional coyote howling or meadowlark singing in the distance. 4.2 miles of trail winds its way westward over rolling hills and valleys towards the mountains. Soldier Ridge is spectacular all times of day, but sunrise or sunset adds even more awe to an already dramatic landscape. Sunrise transforms the Bighorns from a deep blue to a burnt orange as the rays of the sun hit the 13,000 foot peaks. In the evening, the rays of the sun shine behind those same peaks, turning the lowlands to gold.  
---
SOUTH PINEY CREEK – 28 Minutes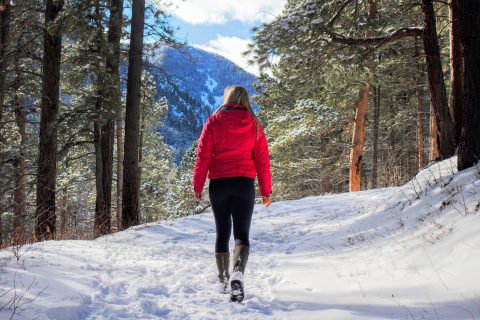 South Piney Creek, located in the forested Story, Wyoming, works its way up a Bighorn Mountain canyon for approximately 1.3 miles. This short but naturally stunning hike offers crystal clear streams, thick ponderosa pine forest, and dolomitic limestone cliffs. Cross country skiers, hikers, fly fishers, and rock climbers convene here throughout the year. The trail begins at an elevation of 5,439 feet and is relatively flat as it follows the canyon floor. The limestone cliffs rise above the trail and reach elevations around 8,000 feet. Elk, deer, moose, and countless species of birds call this area their home.
---
TONGUE RIVER CANYON- 38 Minutes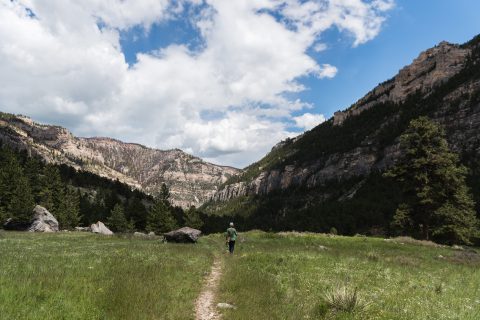 Tongue River Canyon is one of the most iconic hikes in Wyoming. It's fabled rock formations, pristine waters, and luxuriant forest come together to paint an unforgettable scene. The distinguishable "Needle's Eye" rock formation and mysterious Tongue River caves attract curious minds and bold explorers. The trout filled waters bring in fishermen from around the world while trail runners travel thousands of miles to conquer the 10 mile hike.
The canyon was once heavily used for transporting timber down the mountain via the Tongue River Tie Flume. The flume was a man-made waterway that brought logs to Ranchester, Wyoming where they were loaded on trains for railway transport. Logs going down the flume could travel at speeds of 75 mph making the flume a quicker alternative to horse-drawn wagons. Occasionally, the lumberjacks would even catch a ride down the flume in one of their homemade flume boats to get off the mountain quickly. Eventually, there was no longer a demand for timber from the Bighorn Mountains and The Tie-Flume was abandoned. 
Visit our Interactive Map for for more information on area trails.
Jeff Shanor | Sheridan Travel & Tourism