Climbing Cloud Peak
In Wyoming nothing can be said to be certain, except death, low taxes, and spectacular wilderness backpacking. I'm cheekily riffing on the old Benjamin Franklin quote, but there's truth to these words; there's not a wilderness area in the Lower 48 that offers Wyoming's beautiful mix of solitude, mountain vistas, and challenging terrain. The finest combination of all three can be found in the legendary Bighorn Mountains.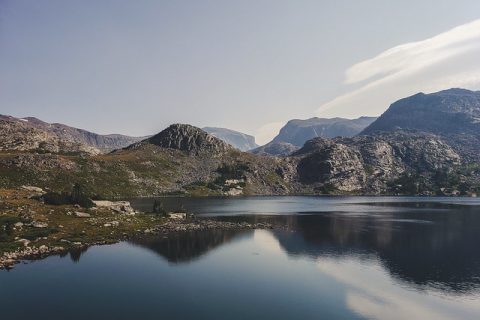 The Bighorns feature the state's most diverse topography – in a single day, an intrepid backpacker may find themselves snapping wildflower selfies in alpine meadows, trekking glacier-carved canyons, spying on pronghorn across high desert terrain, and summiting towering granite peaks. The Bighorn National Forest features numerous reservoirs, 30 campgrounds, three US Scenic Byways, 10 picnic areas, eight lodges, thousands of miles of streams and rivers, 1,200 miles of trails, and 189,000 acres of Cloud Peak Wilderness. It's in this wilderness that I often find the most sublime Wyoming experiences.
I set out last summer on an expedition to summit the highest peak in the Bighorns; Cloud Peak is a 13,171-foot giant that features the greatest topographic prominence in the state. For those counting at home, prominence is the height of a mountain's summit relative to the lowest contour line encircling it and is a measure of the independence of a summit (thank you, Wikipedia). Cloud Peak's 7,077 feet of prominence is the greatest in the state, and the 15th greatest in the nation, meaning that the peak towers over much of the surrounding landscape. If it's ever felt like Cloud Peak is always looking over your shoulder, it's because it is.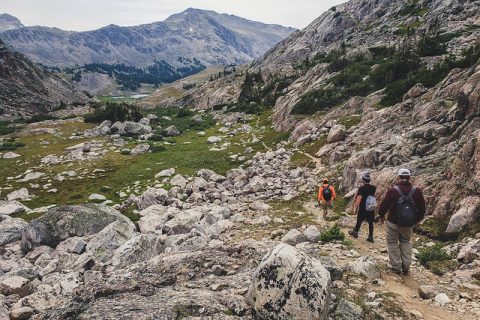 Anyway, back to this expedition. Our little motley crew included friends and family, Max Brown, our Video Production Coordinator, and Nick Flores, the owner of Bighorn Mountain Guides. Nick is something of a legend in this neck of the woods, known for his ultramarathon prowess, his rock-climbing skill, and his uncanny ability to navigate the remote Bighorn backcountry. Our group included experienced backcountry backpackers and one or two folks new to this type of adventure altogether, which meant we were in for some rather unique experiences.
We kicked off our two-day adventure from the West Tensleep Trailhead (at 9,101 feet in elevation, we're almost at the top already). West Tensleep is easily reached from the city of Buffalo – shout out to our friends to the south! We packed light, or as light as possible to be comfortable on our journey; see a future post for full details on our gear. The trailhead offers easy access to some of the most scenic parts of the wildness, close proximity to several mountain lodges, is not far from US Highway 16, and is surrounded by lakes and streams famed for fishing. We filled out our backcountry permit and set out for parts unknown.
We followed Misty Moon Trail #63 along West Tensleep Lake to our first stream crossing. It was at this crossing that the "crowds" dispersed; in local parlance, "crowds" is an alternative term for the half dozen people we saw on the trail that morning. We climbed the first rock face we came upon for a few selfies, skipped stones across the first lake we passed, and pretended to be able to tell what type of animals were on the trail based on their scat (apparently I can't tell the difference between deer and wolf poop).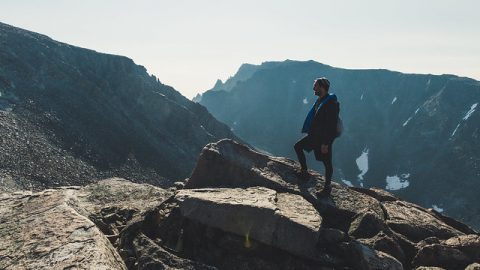 Less than an hour in we were treated to stunning, horizon-spanning vistas the likes of which are rare even in Wyoming. Patches of ponderosa and blackjack pine stuck to hillsides; sparkling lakes and babbling streams; even a cow moose content to let us pass while she treated herself to brunch in a bush. We dipped into Lake Helen (cold) and Lake Marion (colder) before arriving at Misty Moon, an iconic body of water beloved by anglers, hikers and photographers. The lake, located at 10,240 feet and flanked by the Bighorn high country, is often used as a basecamp by hikers exploring the area on multi-day trips – it offers easy access to Cloud Peak, Bomber Mountain, and more. We decided to hike on and connected with Solitude Loop Trail #38; this allowed us to set camp at Paint Rock Creek, a secluded chunk of land shielded by the mountains from the wicked winds often found at higher elevations. All told, our first day totaled roughly 7 miles of mostly easy hiking.
We gobbled up our freeze-dried dinners (seriously, some of these are good), and settled in early for a few hours of well-deserved rest. From the safety of his tiny backpacking tent, Nick regaled us with stories of how he'd run to the summit of Cloud Peak, in only a few hours – a feat only a few people had ever attempted, let alone achieved. Rest assured, our party was not about to join that lofty company.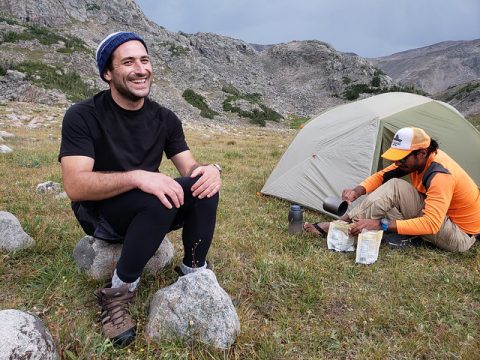 Alarms went off at 5am, and after breakfast and coffee – so, so much coffee – we set out to make the summit. Low clouds and a soft rain transformed the mountain to a moonscape of our very own; the barren expanse of the mountain was much different from the verdant woodland we had hiked on much of our first day. It was an atmospheric scramble over rocks and scree, and when the rain came down in sideways sheets, we tucked ourselves into crevasses that only the most generous would call caves. We joked that we had enough water to last a week but not enough beer to make it through the afternoon, so we carried on with our adventure.
The rain broke and the sun burned up the clouds, revealing views limited only by our imaginations. The views were a welcome, beautiful distraction – by 8am my legs were wondering how much further we planned to go. We followed a path marked by old cairns, hopping over small rocks and boulders as big as school buses, and up along a knife's edge that plummeted hundreds of feet down either side. By 9am we detoured to a snowfield, where we took turns racing one another on our daypacks (given my size advantage, I easily won my heat), and by 10am we were near the peak. At 10:08am I stood atop Cloud Peak, all 13,179 feet of its rocky crown, and looked out at the shimmering glacier lakes below. I was filled with a sense of pride, knowing this ancient giant sleeps in my own backyard, and that people come from all over the world to experience it. Our group was strangely quiet, each hiker content to experience the summit in their own way. Until I called for a group photo, of course.
Shawn Parker is the Executive Director of Sheridan Travel & Tourism.