The culture of craft is as quintessentially Wyoming as long days on the ranch, bucking broncs, and snow-capped peaks. Sheridan is home to a vast spectrum of craftsfolks, including world-renowned leather crafters, metalsmiths, carpenters, sculptors, painters and writers – maverick artisans that are often celebrated for their steadfast belief in the relevance of craft in a world where design and aesthetic are increasingly influenced by technology, media, and demand.
Kolts Fine Spirits, now the Koltiska Distillery, crafted the first Koltiska Original Liqueur in 2001, kick starting a nascent regional distilling industry. Then along came Black Tooth, a rebel outfit that ushered in sweeping changes to the craft brewing and distilling industries, and changed the craft paradigm forever in a region that had long held fast to archaic notions of what libations were, and what they were supposed to be. Now burgeoning beyond even the wildest expectations, Sheridan's craft beer, spirits and wine scene is among the most robust in the Mountain West (given Sheridan's size). Where the blue yummie once reigned supreme, and where whiskey once flowed south from the Great White North, craft is now king.
---
The Tooth Will Prevail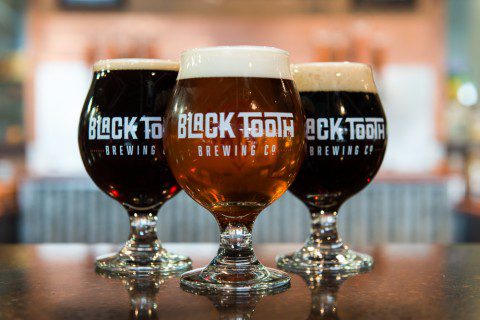 Stewarded by the genius of head brewer Travis Zeilstra (formerly of the Montana Brewing Company in Billings, MT, and 2007 recipient of the Brewer of the Year Award from the Great American Beer Festival), the Black Tooth Brewing Co. has garnered critical acclaim since it opened its door in 2010. Dozens of banners from national festivals and competitions hang from the tap room's ceiling, and you would be hard pressed to find a bar, pub or restaurant within a hundred miles that isn't serving at least one Black Tooth brew. Black Tooth has become the largest brewery in Wyoming, growth spurred by a fundamental dedication to producing top-quality beer with the finest possible ingredients.
Black Tooth Brewing Co. is a local watering hold of the highest caliber, a social hitching post, and a community landmark. The tap room hosts live music, local food vendors, game nights, and more. The beers – from core staples like Saddle Bronc Brown to seasonal like the Over Under Double IPA – are creative, bold, hand-crafted works of hoptastic art. www.blacktoothbrewingcompany.com
---
For the Spirit of the West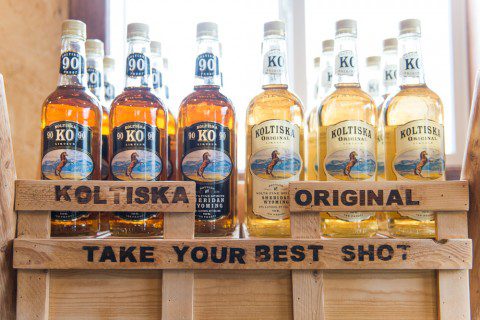 History and tradition run deep in the Koltiska family; the Koltiska's settled in Sheridan County in the late 19th Century, and have called Wyoming home for more than five generations. The original Kolts Fine Spirits, established in 2001, released the handcrafted Koltiska Original Liqueur, followed by KO 90, each an embodiment of the spirit of the American West. In early 2016 Kolts Fine Sprits became the Koltiska Distillery, and the company opened a new production facility and tasting room that offers guests an opportunity to sample old favorites, new products (gin, vodka and whiskey) as well as craft cocktails inspired by more than 100 years of local family lore. The Koltiska Horse & Carriage Co. offers daily tours that include classic carriage rides throughout Sheridan's historic core and distillery tastings and tours. www.koltiska.com
---
American Grown, Wyoming Cellared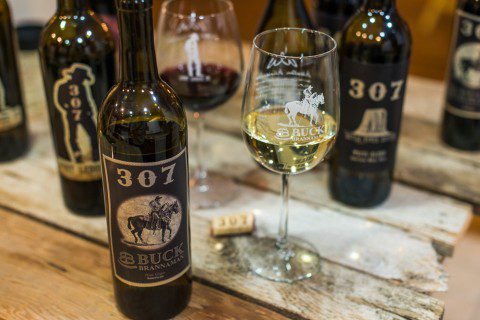 Sheridan's Weston Wineries crafts tremendous wines from West Coast-grown grapes sourced from the finest producers along the Pacific. Each of Weston's 307-brand wines are an exercise in local vintnering wizardry, and an homage to the legends and outlaws of the State of Wyoming.
307 Wines celebrate the life and times of legendary horse trainer Buck Brannaman, "Longmire" author Craig Johnson, bronc rider and recording artist Chris LeDoux, as well as the icons of Wyoming itself, including the Grand Tetons, Devils Tower, and the Flaming Gorge. Weston's 307 wines are available at fine retail establishments and restaurants throughout Sheridan. www.westonwineries.com
---
True Brew Enlightenment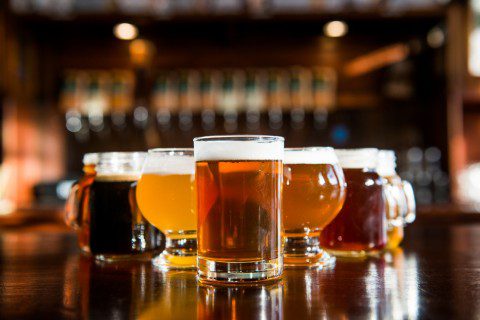 One of the finest brewery secrets in the American West, the Luminous Brewhouse is a purveyor of malty gold that has carved out a niche as a bespoke brewer of unique beers, oft-lauded Ginger Pale Ale, the Java Moon Coffee Ale (brewed with a Sunny Moon Blend from Java Moon, a local coffee shop, and finished with roasted barley), and the bold, hoptastic X-X IPA, brewed with Amarillo, Cascade and Magnum hops. Luminous features an excellent mug club (the deals are good, the hand-crafted ceramic mugs even better) and helpful bartenders that are always ready to help you navigate the extensive tap list. Luminous brews specialty beers for local establishments like the Sheridan Inn; the Bourbon Ported is notable for toasted oak staves soaked in Woodford Reserve, imparting both vanilla and bourbon through the beer. In 2016 Luminous will move into a larger tap room on Broadway Street. Head brewer Seth Orr leans on his science and psychology to aid him in crafting Luminous' dazzling array of brews, sure to please suds-o-philes and craft newbs alike. www.luminousbrewhouse.com
---
A Taste of Western Hospitality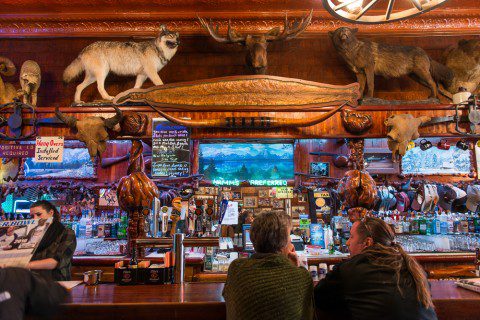 A rattlesnake, a moose, and a jackalope walk into a bar… and they never left again. Alright, we'll be honest – none of the critters mounted on the walls of Sheridan's iconic Mint Bar actually walked in on their own, but you can imagine how many cowboy hats would have flipped off if they had.
The Mint Bar opened in 1907 and quickly became Sheridan's favorite watering hole; even Prohibition, enacted in 1919, couldn't stem the flow of liquid courage, as a speakeasy was kept running out back until the end of the Congressional dry spell in 1933. The bar was remodeled shortly after its official reopening, and has remained relatively unchanged since the 1940s – every time I saddle up to the well-worn bar, I imagine how many tall tales the Bighorn sheep on the wall has heard, or how many city slickers the bobcats have chased home.
The Mint's neon sign glows bright each and every night, urging new friends to stop in for a taste of Western hospitality. www.mintbarwyo.com
---
For Custom Craft Cocktails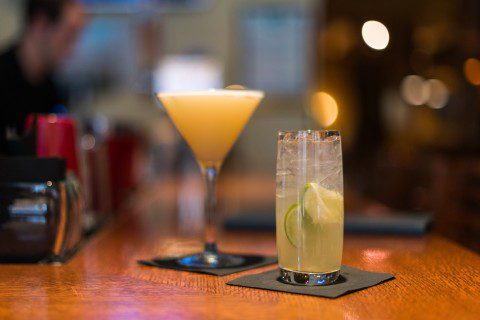 Frackelton's is a purveyor of fine food and exquisitely crafted cocktails, a restaurant that is both local hitching post and night-out destination. The culinary team's capricious creations are each an exercise in culinary whimsy, while the ever-evolving drink list features bespoke homegrown concoctions made with Wyoming Whiskey, sagebrush, and local honey. Sunday brunch is a thing of beauty, where bold Bloody Mary's are the tonic of the day, and house specialties, like the huevos rancheros, put a delicious exclamation point on Wyoming weekends. Simply put, Frackelton's is Western Cuisine redefined. www.frackeltons.com